Twelfth Wagner mercenary convoy arrives in Belarus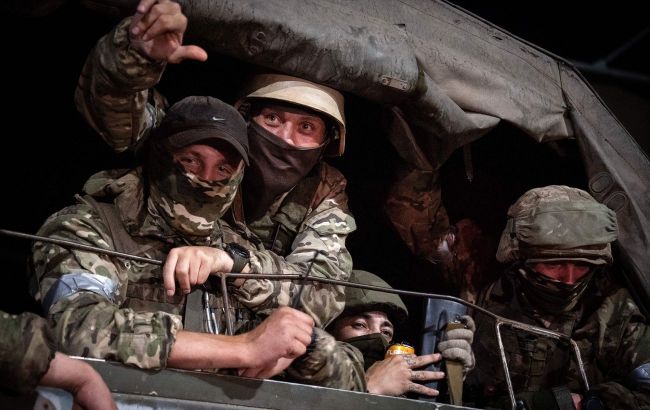 Illustrative photo: Another convoy of "Wagner Group" mercenaries with armored vehicles arrived in Belarus (Photo: Getty Images)
The 12th convoy of Wagner PMC mercenaries has arrived in Belarus, consisting of at least 50 units of automotive equipment, according to "Belarusian Hajun."
The convoy with equipment entered Belarus through the Poniativka (Russia) - Zvinchatka (Belarus) checkpoint and is currently moving along the R122 highway towards Chausy (the Mogilev region) under the escort of Belarusian traffic police.
It is reported that the convoy consists of at least 50 units of automotive equipment.
The convoy includes:
5 armored vehicles Shchuka ("Chekan"),
3 fuel trucks,
1 bus,
17 trucks,
At least 3 trailers (transporting an excavator, fuel truck, and armored vehicle Shchuka ("Chekan")),
6 KamAZ trucks (with canvas covers),
2 "bukhanka" vans (sanitary vehicles),
Pickups and passenger cars.
It is emphasized that this is at least the second convoy of the "Wagner Group" that entered Belarus with armored vehicles.
"Wagner Group" in Belarus:
After the failed coup attempt against "Wagner Group" leader Yevgeny Prigozhin, it was decided to send some of the mercenaries to Belarus.
Currently, there are over 3,500 "Wagner Group" mercenaries in Belarus. On July 20, it was reported that Belarusian special forces and the mercenaries would conduct joint training.
Poland is expecting certain provocations from Russia and has consequently relocated its military personnel from the western part of the country to the east.
The "Wagner Group" units are actively searching for individuals in Belarus who are willing to participate in hostilities against Lithuania and Poland.