Top most convenient railway routes between European cities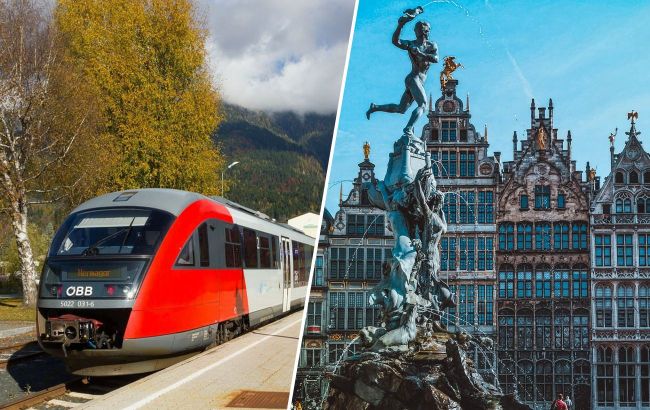 Photo: Train in Austria and architecture of Brussels (Collage by RBC-Ukraine)
Travel without flights is gaining popularity, and train journeys in Europe are experiencing a renaissance. New routes are being launched in Central and Western Europe. EU countries are investing in the development of railway connections, making it easier to reach many cities than ever before.
RBC-Ukraine reports on the best railway routes in Europe that will be launched in 2023 and 2024.
Austria
Vienna – Paris
The Austrian national railway company ÖBB is reviving sleeper trains in Europe with Nightjet trains. In late 2021, the company launched a new route between Vienna and Paris via Salzburg and Munich. The journey takes 14 hours, and the train runs three times a week in both directions. Prices range from 30 euros for a seat to 120 euros and above for a private compartment.
In the summer of 2023, Nightjet introduced next-generation trains with wireless charging stations, free Wi-Fi, bike storage, winter sports equipment, and private compartments with showers and toilets.
Vienna – Genoa and La Spezia
In the new Nightjet schedule for 2023, the Vienna-Munich route was extended to Milan, Genoa, and La Spezia in Italy. From there, you can take a train to Monaco, Nice, and Cinque Terre.
Photo: La Spezia, Italy (unsplash.com)
Belgium
Brussels – Berlin via Amsterdam
European Sleeper is launching a route from Brussels to Berlin via Amsterdam on May 25, 2024. With only one transfer, passengers can travel to Paris, London, Prague, and Warsaw. The route will later be extended to Dresden and Prague.
Liège – Aachen and Maastricht
From December 2023, a new railway route between three countries will connect Aachen in Germany, Liège in Belgium, and Maastricht in the Netherlands. The project is a result of collaboration between Arriva (a part of the German Deutsche Bahn Group), SNCB (Belgium's National Railway Company), and NS (Nederlandse Spoorwegen).
Berlin – Brussels with Nightjet (2023)
On December 10, 2023, Nightjet ÖBB launches the Berlin-Brussels route. It will start with three weekly trips with stops in Halle, Erfurt, Cologne, and Aachen in Germany.
Photo: Train at the railway station in Brussels (unsplash.com)
Czechia
Prague – Zurich
In December 2022, the Czech national railway operator České dráhy (ČD) launched a new night route connecting Prague and Zurich with stops in Frankfurt and Basel.
The journey on the new night route, which was closed in 2017 and reopened, takes just over 14 hours. Travelers have various seating options, from six-person couchettes to luxurious sleeping compartments with private toilets and showers.
The cost of tickets for a sleeping couchette in a six-person compartment starts from 49.90 euros.
France
Paris – Bourg
This winter, getting to the Alps will be more convenient: the Paris-Bourg train is returning. The train along this route will operate from December 14 to March 24.
Bourg is located near the base of the ski resort of Les Arcs. A funicular will take you from the city to the Les Arcs ski resort in just seven minutes.
Paris – Berlin
The Nightjet, a subsidiary of the Austrian railway operator ÖBB, resumes the Berlin-Paris connection on December 10, 2023, after a nine-year break. Starting with three trips per week, travelers will be offered daily service from the fall of 2024.
Meanwhile, France and Germany have also announced a new TGV train route between Paris and Berlin, which is expected to start operating in 2024.
Currently, traveling between the two capitals requires travelers to transfer at a separate station, such as in Cologne or Frankfurt. The new high-speed connection will allow passengers to make the journey in approximately seven hours.
Photo: High-speed line for the Madrid-Paris connection (wikipedia.org)
Paris – Madrid
In December 2022, the FS Italiane Group – the owner of Italy's national state railway Trenitalia – announced plans for a new high-speed rail connection, Frecciarossa, between Paris and Madrid.
The new train will connect Paris and Barcelona. They plan to launch it at the end of 2024. It is hinted that other routes may connect Madrid to Italy via France.
Paris – Venice
The French startup Midnight Trains plans to connect France and Italy with a new night train from Paris to Venice via Milan starting in 2025 with the support of the European Commission. This will allow travelers from the UK to reach Italy faster and more easily.
Germany
Berlin – Stockholm
The Swedish railway company Snälltåget has changed the route of its train from Berlin to Malmö through Hamburg and Denmark, extending it to Stockholm. The full journey takes just under 17 hours. Tickets cost approximately 50 euros.
Munich – Genoa and La Spezia
In the new Nightjet schedule for 2023, routes from Vienna/Munich to Milan have been extended to Genoa and La Spezia in Italy. From there, you can travel to Monaco, Nice, and Cinque Terre.
Photo: Munich Central Station (unsplash.com)
Stuttgart – Zagreb and Rijeka
In the new 2023 schedule, Nightjet has extended its sleeper train connections from Munich to Venice, Ljubljana, and Zagreb from Stuttgart. Seasonally, the route will also extend to the coastal Croatian city of Rijeka, with a total travel time of about 15 hours.
Nightjet to Venice travels through Munich, Salzburg, and Treviso, while routes to the capitals of Croatia and Slovenia are operated by Croatian Railways HŽ and Slovenian Railways SŽ under the guidance of EuroNight ÖBB.
Munich – Warsaw
In 2024, the ÖBB Nightjet train will connect Munich in Germany with Warsaw in Poland, passing through Rosenheim in Germany, Salzburg, Linz, and Vienna in Austria, and Krakow in Poland.
Nightjet from Vienna to Berlin will follow a new route through Brzeg and Prague in Czechia and Dresden in Germany.
Italy
Genoa – Naples
At the end of 2021, the Italian company NTV Italo launched a train to Genoa, connecting the port city in northwest Italy with the south of the country. The journey from Genoa to Naples takes less than seven hours. Tickets cost about 80 euros round trip.
Rome – Pompeii
In July, Italy launched a new direct high-speed connection from Rome to Pompeii and back. The route connects the capital with the popular tourist city in the Campania region. It takes less than two hours to reach the destination, departing from Rome at 8:53 a.m. and departing from Pompeii at 6:40 p.m.
Initially, the train will only run this route on the third Sunday of each month, but in the future, the number of trips may increase.
Photo: Pompeii, Italy (unsplash.com)
Milan – Paris
Also, at the end of 2021, Frecciarossa – a high-speed division of the Italian national train operator Trenitalia – launched a new luxurious train between Milan and Paris.
Faster and more comfortable than previous trains on this route, the train reaches its destination in less than seven hours. Tickets cost only 29 euros.