Most delicious pumpkin soup you must try this fall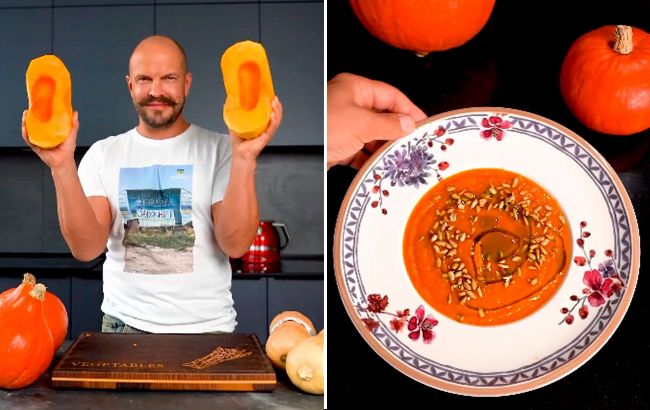 How to make pumpkin soup (Collage: RBC-Ukraine)
The fall is a perfect time to experiment with new pumpkin recipes. A popular dish this season for your kitchen could be a soup with the addition of canned tomatoes and pumpkin seeds.
Here's a recipe shared by a well-known Ukrainian chef, restaurateur, and judge on the Ukrainian version of the "MasterChef" TV show Volodymyr Yaroslavskyi on Instagram.
The tastiest pumpkin soup recipe
"During the fall-winter season, I frequently indulge in pumpkin soups. I always find myself overwhelmed by the irresistible sweet flavor that, of course, dominates in a pumpkin soup. But once, I managed to discover the tastiest recipe for this dish, which I am delighted to share with you," the chef says.
How to choose a pumpkin:
Choose pumpkins with bright, colorful flesh – the brighter, the tastier.
Try a raw pumpkin, and you'll immediately understand its characteristics.
Long varieties like "Chamomile" and "Muskat" are considered good options.
Ingredients:
600-700g of roasted pumpkin with rosemary
100g of onions
300g of canned tomatoes in juice
20g of yellow curry paste or a dry curry spice blend
Pumpkin seeds and pumpkin oil
Cooking oil for frying and baking
Here's how to cook it:
Clean the pumpkin, cut it into random pieces, drizzle with olive oil, and sprinkle with salt. Add fresh rosemary sprigs. Roast in the oven, covered with foil or in a cooking bag, for 30 minutes at 200 degrees Celsius (392 degrees Fahrenheit).
"Then I uncover and roast for another 10 minutes to dry the pumpkin slightly. In winter, I use Pelati tomatoes, but if you have fresh ones, take twice as many and blanch them to remove the skin," says Yaroslavskyi.
Cut the onion. On medium heat, sauté until it turns slightly golden. Add the tomatoes and simmer for another 10 minutes.
Add the roasted pumpkin, including any liquid if there's any in the tray. Pour in vegetable broth or water and bring it to a boil. Blend everything into a puree using an immersion blender. Adjust the desired thickness with water.
Season with salt and add curry paste to taste. Serve the dish hot, drizzled with pumpkin oil, and sprinkled with toasted pumpkin seeds.
"By the way, you can also add coconut cream as a garnish or to add variety to the flavor just before serving. This recipe is also suitable for Lent. Enjoy," says Yaroslavskyi.