Switzerland to sell Leopard-2 tanks to Germany to replenish fleet after deliveries to Ukraine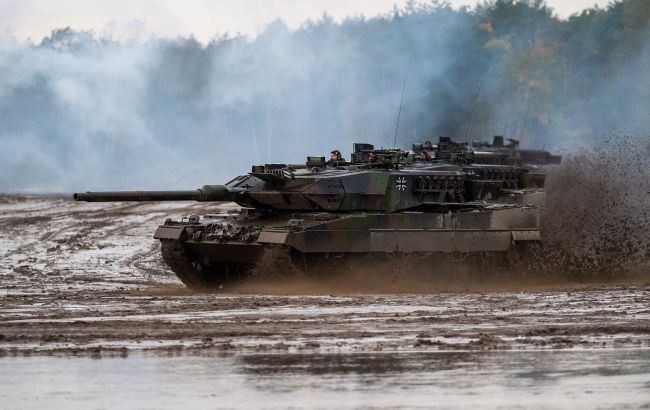 Leopard-2 tanks to be transferred from Switzerland to Germany to replenish stocks (ebrd.com)
Germany welcomed Switzerland's decision to allow the sale of a portion of its Leopard-2 tanks of German production in order to help replenish its depleted fleet, exhausted due to support provided to Ukraine, Reuters reports.
In February, Germany had asked Switzerland to sell back some of the 96 Leopard II tanks it has in storage to manufacturer Rheinmetall AG.
To comply with Swiss neutrality laws, Berlin assured Bern that the weapons would not go to Kyiv, but remain in Germany or with a NATO or European Union ally.
"We are very happy and grateful for this decision," Michel Fluegger, Germany's ambassador to Switzerland told Swiss TV. "We need these tanks, they will fill gaps with us and our European partners."
Parliament's decision
He made this statement after the Swiss parliament approved the decommissioning of 25 Leopard-2 tanks on Tuesday, paving the way for their resale to Germany.
Requests from Germany, Denmark, and Spain to send Swiss weapons previously purchased by them to Ukraine were blocked by Bern due to Switzerland's neutrality, which does not allow the direct or indirect transfer of weapons to combatants in a war.
The purchase of Swiss weapons could become problematic unless Bern adjusts its law on war materials, according to Germany's ambassador Flügger.
"We have purchased a lot of weapons, systems or components or ammunition from Switzerland, including our NATO partners, and we would now like to give some of these systems to Ukraine," he said.
The Swiss cabinet now has to formally support the export of the Leopard IIs to Germany, but this is expected to be a formality after Defence Minister Viola Amherd said the supply of the tanks to Germany complied with Swiss neutrality law and was also in the country's interest.
"In this way we can also contribute to security in Europe and thus directly to the security of our country," Swiss Defence Minister Viola Amherd told Swiss broadcaster SRF.
Since the start of the full-scale invasion by Russia, Germany has become the largest donor to Ukraine among continental European countries. Specifically, Germany is set to provide Ukraine with two battalions (62 units) of Leopard 2 tanks.