Shelling of Chernihiv, August 19 - Rocket aimed for maximum impact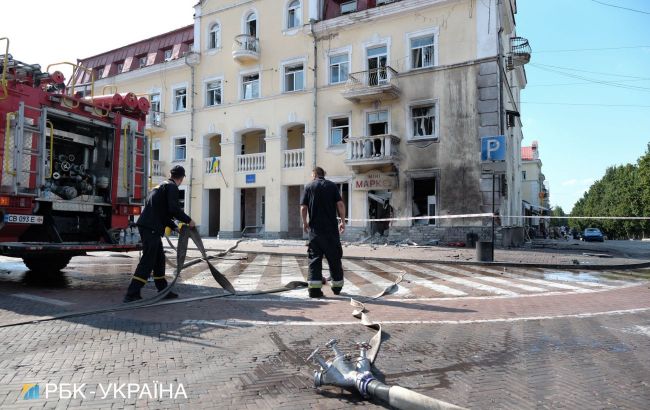 The Russians launched an attack on Chernihiv (photo: Vitalii Nosach, RBC-Ukraine)
During the attack on Chernihiv, Russian occupiers used an Iskander-M missile. However, during its setup, the maximum impact mode was selected, reveals Yurii Bielousov, the Head of the Department for Combating Crimes Committed in Armed Conflict Conditions at the Office of the Prosecutor General, during a telethon.
The prosecutor reported that, according to the investigation, the main force of the explosion was directed towards the people around the Drama Theater.
"Russia used an Iskander-M missile, which has several settings. The missile was configured in such a way that it detonated in the air. This type of configuration is done to maximize the impact on live forces in open areas. The Drama Theater certainly suffered damage, but there are assumptions that the main force of the explosion was directed at the people in the vicinity," explained the head of the Department.
Investigation of the Russian attack
Bielousov reported that the investigation is being conducted along two main directions.
"The first one is the identification of individuals who made decisions to carry out the strike and those who directly executed this strike. We are also examining all circumstances related to the organization of the exhibition," he noted.
Currently, according to the prosecutor, efforts are ongoing to identify individuals from the command structure of the Russian Armed Forces who issued orders to carry out this strike and the specific military unit that directly launched the missile.
Additionally, a version involving the potential targeting of the strike by enemy agents on Ukrainian territory is being explored.
Rocket strike on the center of Chernihiv
Yesterday, on August 19, during an air raid alert in Chernihiv, powerful explosions occurred. Local authorities confirmed that the occupiers had struck the city center with an Iskander missile. Many people were in the area at the time of the attack.
As a result of the attack, the dramatic theater, square, courthouse, Chernihiv RSA, shops, and other public institutions were damaged. 148 people were affected, including seven fatalities.
At the time of the strike, a drone exhibition was taking place in the drama theater, which had been announced in advance. The organizers claim that they had obtained approval for the event from the authorities.
For all the details of this cynical attack by the Russians, read the article by RBC-Ukraine.