Satellite blinding: Russians went into hysterics over northern lights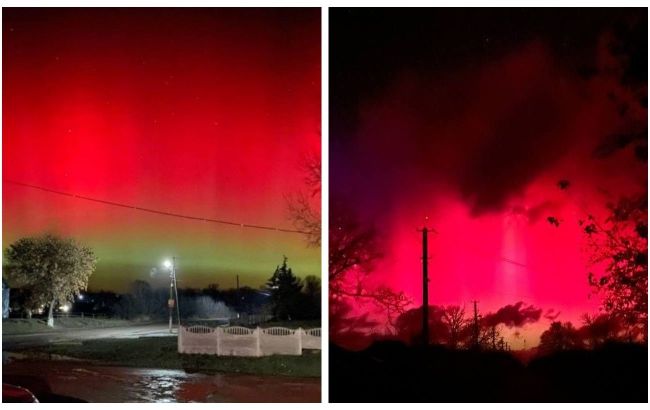 Northern lights (collage: RBC-Ukraine)
The northern lights, which could be observed over many regions of Ukraine on November 5, seriously frightened the Russians. They started spreading fake news claiming that it was "satellite blinding".
The sources used in the material preparation include Telegram channels.
"Satellite blinding"
When the red aurora appeared in the sky, at first, the Russians didn't understand what was happening. This rare phenomenon could be observed over the temporarily occupied territories of Ukraine and the border cities of the aggressor country. The occupiers were frightened and started releasing their versions of the event in their propaganda Telegram channels.
Yes, the Russians didn't rule out that the red aurora in the sky might be a result of the Russian Ministry of Defense's activities. They even considered that this natural phenomenon could be the result of "satellite blinding."
"We still don't know what it is. A natural phenomenon that hasn't been observed in the South before. We don't rule out the possibility of the Russian Ministry of Defense's satellite blinding systems being in operation," Russians wrote in the Telegram channels.
The cynical version of the appearance of the northern lights by the occupiers
Furthermore, the Russians even linked the aurora to their occupation of Donbas and cynically referred to it as the "integration into the Russian Federation." Residents of the aggressor country claimed that such a phenomenon had not been observed before.
So they came up with another version of the aurora's appearance. According to the occupiers, the red sky was a result of "integration." While some Russians feared that the aurora signaled something bad, others were happy about the phenomenon but didn't even know what it was.
Russians came up with an absurd version of the appearance of the northern lights (screenshot)