Sappers discover and neutralize Soviet-era Tochka-U missile in Kherson region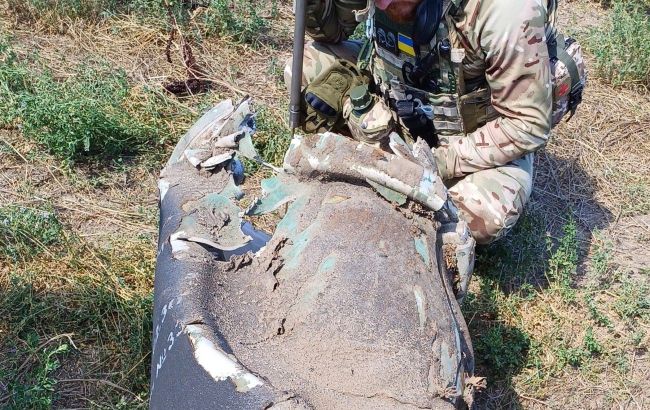 Near Chornobaivka, sappers discovered and neutralized a Tochka-U missile (Photo: facebook.com/khersonpolice.official)
It is mentioned that explosive experts have determined that the missile did not detonate, and its warhead remained undamaged.
According to the chief of the explosive ordnance disposal department of the Kherson Region Police, Volodymyr Perepelytsia, the discovered missile is a part of the Soviet-era Tochka-U model with a modified aviation bomb as its warhead.
"The explosive impact from detonating this missile would have been very strong. The situation was complicated by its proximity to vital communication lines. Therefore, the decision was made to transport the lethal finding to a safer location and neutralize it while observing all safety norms," explained Perepelytsya.
As reported by the press service, the warhead of the missile was buried in a pit to absorb the main detonation by the soil, preventing fragments from scattering far. Afterward, it was successfully neutralized.
Photo: Sappers discovered and neutralized a Tochka-U missile near Chornobaivka (facebook.com/khersonpolice.official).
Situation in the Kherson region
After the de-occupation of the right bank of the Dnipro River in the Kherson region, Russians regularly shell the region, particularly Kherson, from the opposite riverbank. They employ heavy weaponry and aviation for this purpose.
Furthermore, during the temporary occupation, Russian forces mined parts of the region, including fields and forests.