Russians shelled Kherson with artillery, police officers wounded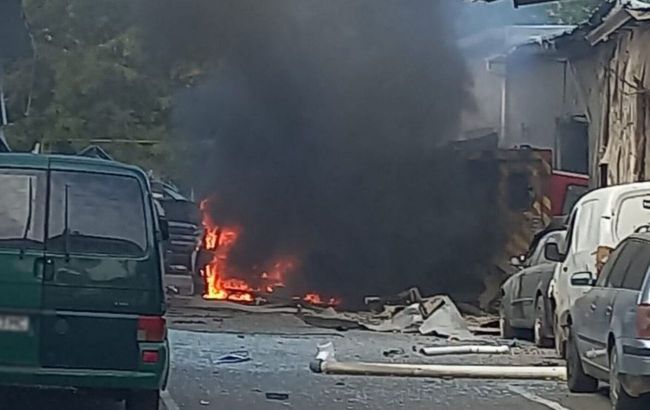 Russians shelled Kherson with artillery, police officers wounded (t.me/phogovua)
Since the morning of Monday, October 2, the occupiers have been shelling Kherson. Police vehicles came under fire, with two officers wounded, along with some civilians, according to Ukraine's Minister of Internal Affairs, Ihor Klymenko, and the Chief of the Kherson Regional Police Department, Roman Mrochko.
"A police patrol car was hit in the attack. The impact was so severe that it penetrated the vest. Two police officers were injured. They have been hospitalized, with one of them in extremely critical condition," Klymenko revealed.
According to him, the enemy continues to bombard Kherson with artillery fire.
"During the morning shelling, special forces unit managed to rescue a civilian amidst ongoing explosions, who had suffered a leg injury. The injured person was handed over to medical personnel. Their condition is critical," added the head of the Ministry of Internal Affairs.
Additionally, there is information about a fourth injured individual who is receiving medical assistance. Their injuries are not severe.
Consequences of the shelling of Kherson on October 2 (t.me/Klymenko_MVS, t.me/phogovua)
As noted by the Chief of the Kherson Regional Police Department, Roman Mrochko, the Russian forces have targeted Kherson, hitting close to a transportation infrastructure facility.
Shelling of Kherson
Russian forces have been shelling Kherson throughout the night and into the morning of Monday, October 2. During one of these attacks, two girls and their mother sustained injuries.
Furthermore, around 5:00 AM today, the enemy shelled the city center of Kherson. A fire broke out at the impact site, but was swiftly extinguished by firefighters.
Later on, reports of explosions in Kherson surfaced again. Local residents were advised to stay inside.