Russians shell Kherson during evacuation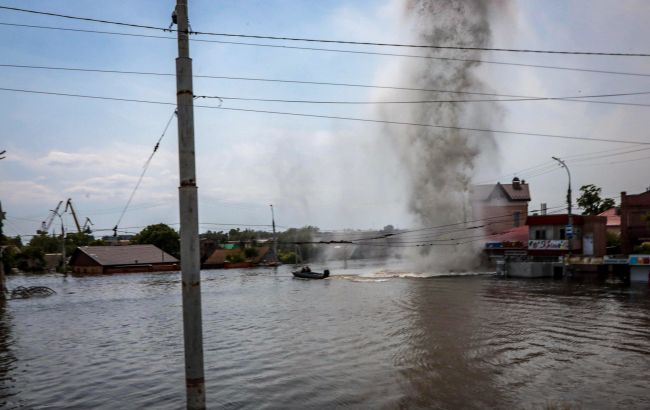 Russian troops shell Kherson on June 8 (t.me/graty_me)
Russian forces are shelling Kherson. The enemy opened fire on the city during evacuation from flooded areas.
This is reported by the head of the Kherson Regional State Administration, Oleksandr Prokudin.
"The occupiers are firing at the coastal areas and the central part of the city," wrote Prokudin.
Andriy Yermak, the head of the President's Office, reminded that an evacuation is currently underway in Kherson.
"The Russians are shelling Kherson while people are being evacuated. Pure terrorists," Yermak writes.
One of Ukrainian media journalists published footage from the shelling they found themselves under. They report that the area of ​​Korabelna Square is under attack.
On June 6, two police officers were injured while assisting in the evacuation of the population.
Casualties reported

The occupiers are targeting the evacuation sites.
"There are at least three victims at the moment: a civilian woman, a police officer, and a rescuer. All necessary assistance is being provided. The shelling started exactly during the evacuation of citizens whose homes were flooded," the Ministry of Internal Affairs reports.
A school in Oleshky came under fire

In the temporarily occupied Oleshky, a school where people from flooded homes gathered, came under enemy fire.
"The orcs (Russians - ed.) fired at the school building just now, where people from flooded homes gathered," wrote Yevhen Rishchuk, the city mayor of Oleshky.
Evacuation in Kherson

The evacuation of people who found themselves in the flood zone continues in Kherson. The region fell into disaster due to Russian occupiers detonating the dam of the Kakhovka Hydroelectric Power Plant.
According to the latest data, 2,198 people have been evacuated from the flood zone.
More details about the consequences of the destruction of the Kakhovka Hydroelectric Power Plant and the evacuation can be found on RBC-Ukraine.
Zelenskyy in Kherson

Today, President Volodymyr Zelenskyy arrived in the Kherson region where he held a coordination meeting on eliminating the consequences of the Kakhovka HPP dam blast.
The head of state also visited the ferry crossing in Kherson, which is being used to evacuate the population from flooded areas.