Russians attack fire station in Izium: 8 rescuers injured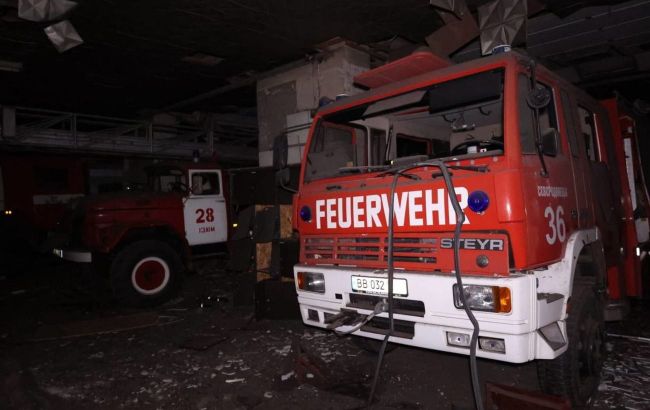 Russians attack a fire station in Izium (t.me/Klymenko_MVS)
Russian forces once again attacked the Kharkiv region during the night of October 27. The occupiers targeted a fire station in the city of Izium, resulting in injuries to eight firefighters, according to Ukraine's Minister of Internal Affairs, Ihor Klymenko.
"Today, the fire department of the region celebrates its 200th anniversary. Russia 'congratulated' them it in its own style. During the night, the enemy launched a missile strike on the fire station building in the city of Izium," Klymenko said.
As a result of the attack, eight firefighters were injured, with four of them currently receiving medical treatment in the hospital.
The attack also caused damage to the building itself and 13 pieces of firefighting equipment.
Photo: Russians attacked a fire station in Izium (t.me/Klymenko_MVS)
According to Oleh Syniehubov, the head of the Kharkiv Regional Military Administration, it is known as f now that the Russians carried out the attack using the S-300 anti-aircraft missile system. The building of the State Emergency Service's fire and rescue unit was damaged.
Photo: Aftermath of the attack (t.me/synegubov)
Kharkiv region shelling
Recently, Russian occupiers targeted the "Nova Poshta" terminal in the village of Korotych near Kharkiv. The Russians fired S-300 anti-aircraft missiles, resulting in a fire and near-complete destruction of the terminal. Cargo vehicles were also damaged.
According to the latest information, six people lost their lives in the attack, and 17 individuals are reported to have been injured. For more details and the consequences of this brazen Russian attack, please refer to RBC-Ukraine's coverage.