Russian strike on village of Hroza: Three people missing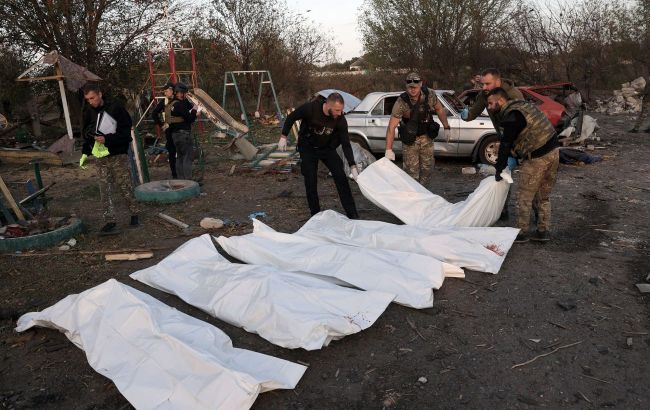 55 people died as a result of the Russian strike on Hroza (Photo: Getty Images)
As a result of the Russian missile strike on the village of Hroza in the Kharkiv region, 51 people were killed. Three more people are considered missing, according to the police of the Kharkiv region.
"Police have identified 37 bodies of the deceased in the village of Hroza in the Kupiansk district. Search operations have been completed. A total of 51 individuals, including an 8-year-old boy, have died from the impact. Three people are considered missing, and six injured individuals are in the hospital," law enforcement officers reported.
According to the police, some of the bodies of the deceased are severely damaged, so DNA analysis is required for their identification.
Russian strike on the village of Hroza
On the afternoon of October 5th, Russian forces launched a missile strike on the village of Hroza in the Kharkiv region. The missile hit a store and a cafe where a funeral for a deceased soldier, organized by his wife and son, was taking place. The son was also a serviceman and was in the cafe with his wife and mother.
Initially, it was known that about fifty people died in the strike, but the number of victims continues to rise.
Minister of Internal Affairs Ihor Klymenko did not rule out the possibility that someone from the local residents might have directed the strike, as the missile accurately hit a small building. This version will be investigated by the Security Service of Ukraine and the police.
Today's strike became the deadliest in terms of casualties in the Kharkiv region since the start of the full-scale invasion. Approximately 15% of the population of the settlement has been killed.
Read more about the rocket strike on Hroza in RBC-Ukraine's material.