Russian shelling of Kramatorsk on June 27: death toll increased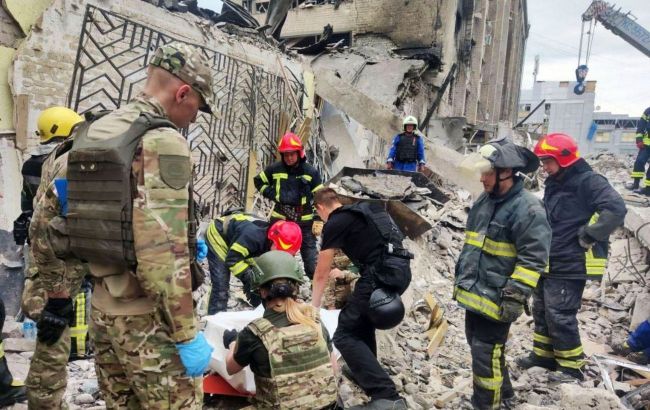 The number of dead and wounded in the shelling of Kramatorsk has increased (t.me/UA_National_Police)
A Russian missile attack on Kramatorsk on June 27 resulted in the death of 10 people and left 61 others injured, according to reports from the National Police.
Veronika Bakhai, the spokesperson for the State Emergency Service in Donetsk region, said that there may still be three individuals trapped under the rubble. Therefore, rescue operations are ongoing.

Photo: Death toll rises following the shelling of Kramatorsk (t.me/UA_National_Police)
According to updated information, the Russians attacked Kramatorsk with Iskander missiles. Among the casualties are a 17-year-old girl and two 14-year-old sisters. An eight-month-old baby was injured, but their life is not in danger.
Explosives experts, investigators, forensic specialists, law enforcement officers, paramedics, and patrol officers continue to work at the scene.
Law enforcement authorities are accepting statements, documenting the destruction, and providing assistance to the injured and their families, offering immediate medical and psychological support.
Shelling of Kramatorsk

Yesterday, Russian military forces launched a missile attack on Kramatorsk. They targeted the city center and the residential area of the village of Bilenke.
In Kramatorsk, the aggressors shelled a café full of people, resulting in a fire. As of the morning, 9 fatalities were reported, including foreigners and children.