Russian missile attack on Kharkiv: massive fire, one injured reported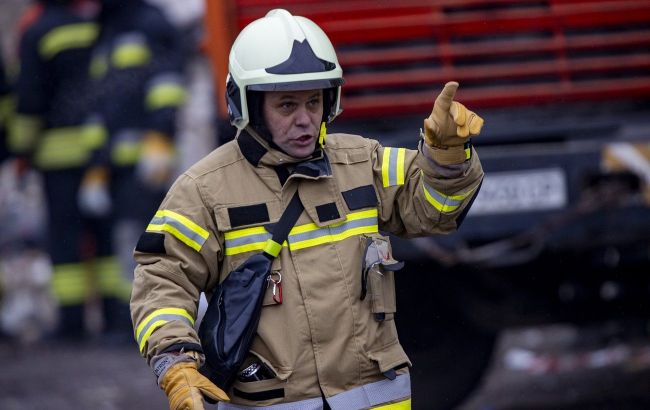 A missile attack on Kharkiv caused a fire, injuring one person (Getty Images)
A Russian missile strike from an S-300 missile systems caused significant damage in Kharkiv overnight, resulting in at least one person injured and a massive fire at a warehouse facility, according to Dmytro Chubenko, the spokesperson of the Kharkiv regional prosecutor's office.
The Russian occupiers launched several missiles of the S-300 type toward Kharkiv and its surrounding areas from the territory of the Russian Belgorod region.
The hostile attack targeted a commercial enterprise's warehouse in the Novobavarskyi district of Kharkiv, causing a fire that engulfed an area of approximately 200 square meters. A man who was in close proximity to the explosion suffered injuries.
Another Russian missile hit a private residence in the Velykyi Burluk town in the Kharkiv region, fortunately without causing any casualties.
The Kharkiv regional prosecutor's representative said that criminal proceedings have been initiated under Article 438, Part 1, of the Criminal Code of Ukraine for violations of laws and customs of war in response to these attacks.
Elimination of consequences
According to the State Emergency Service (SES), as a result of the missile strikes in the Novobavarskyi district, part of a storage building was partially destroyed, and two fire outbreaks occurred, covering an area of about 200 square meters. An enterprise security guard was injured and taken to a medical facility.
The response to the incident involved five units of equipment and 28 personnel from the State Emergency Service of Ukraine in Kharkiv.
The missile attack by the Russian Federation on July 31st at midnight involved the use of S-300 surface-to-air missile systems. Air Force Command of the Armed Forces of Ukraine warned residents of the region about the missile threat, and air alarms were activated.

Russian missile attack on Kharkiv on 31 July
Russian military launched missile attacks on Kharkiv and the region around midnight. The occupiers used S-300 surface-to-air missile systems.
The Air Force Command warned residents of the region about the missile threat by issuing an air raid before the explosions.
Kharkiv Mayor Ihor Terekhov later reported that two missiles hit non-residential buildings, causing a fire.
Nationwide air raid during the night of July 31
During the night, an air raid warning of the threat of missile strikes was issued throughout Ukraine.
Monitoring groups reported the possibility of missile strikes using Iskander missile complexes. Local authorities urged citizens to seek shelter immediately.
Around 01:45, the Air Force Command of the Armed Forces of Ukraine announced the cessation of the threat of enemy missile attacks in all regions.