Russian missile attack kills civilians in Ukrainian president's hometown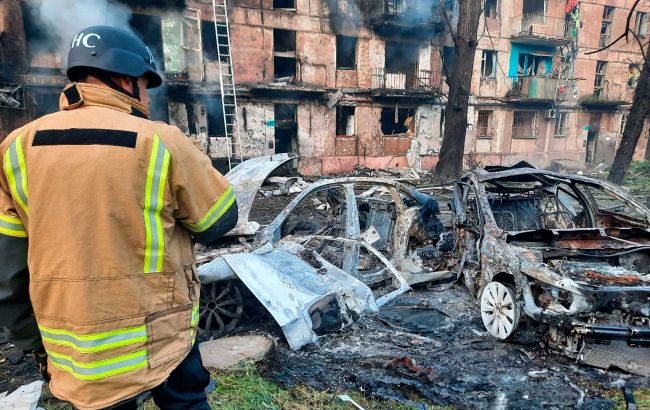 Local officials announced the number of casualties after the attack on Kryvyi Rih (t.me/dnipropetrovskaODA)
Russians shelled a residential building in Kryvyi Rih (which is Ukrainian president's hometown - ed.) on the night of June 13th, killing three people and injuring 25 others, reported the head of the Dnipropetrovsk Regional Military Administration, Serhiy Lysak.
The head of the Dnipropetrovsk Regional Military Administration said that three enemy missiles were shot down by the forces of the Eastern Military District, but a few managed to hit the city. According to preliminary information, three people were killed and 25 were injured, with 19 of them being hospitalized as a result of the strike on the five-story residential building. Some people are still trapped under the rubble.
"Flats on the first to fifth floors caught on fire. The fire has spread over an area of 700 square meters. Firefighters are working to bring it under control," said Lysak.
Olexandr Vilkul, the head of the military administration of Kryvyi Rih, stated that there are likely seven people trapped under the rubble.

The Russians also targeted a private enterprise in Kryvyi Rih. Currently, three individuals have been reported injured and hospitalized. Six cars were damaged. Rescue teams are working at the scene to search for people trapped under the debris.
Four more injured individuals were reported at another location. A building and a car were on fire, which has already been extinguished.
An automobile enterprise was also damaged. Commercial vehicles caught fire, but the flames have been brought under control. Some of the economic structure has been destroyed.
In addition, a rescue unit has been damaged.
"Relevant services are working everywhere. The consequences of this cynical attack are being clarified," said Lysak.
President Zelenskyy's response

TVolodymyr Zelenskyy promised that Russian terrorists would be held accountable for their actions.
"More terrorist missiles, Russian killers continue their war against residential buildings, ordinary cities and people. Unfortunately, there are dead and wounded. The rescue operation in Kryvyi Rih continues. My condolences to all those who have lost their loved ones! Terrorists will never be forgiven, and they will be held accountable for every missile they launch," Zelenskyy wrote.
The night attack on June 13th

On the night of June 13th, the Russians once again shelled Ukraine with cruise missiles and Shahed kamikaze drones.
The Russians also targeted civilian infrastructure in Kharkiv. In the Kyiv region, the air defense system successfully intercepted all enemy targets approaching the capital.
In total, the enemy launched 14 cruise missiles and 4 Shahed drones at Ukraine overnight. The air defense system successfully shot down 10 missiles and one drone.