Russian air defense failed to repel largest drone attack - UK intelligence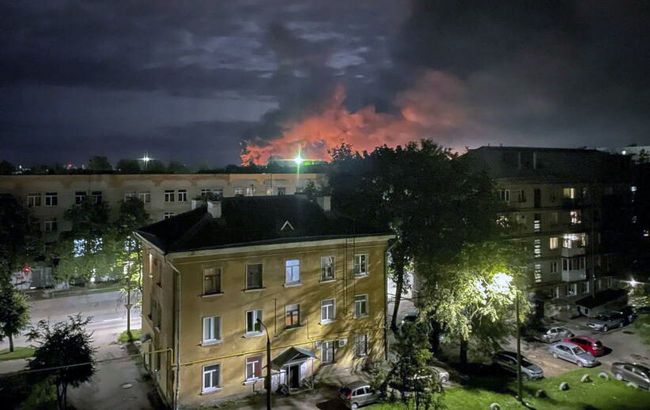 Russian air defense fails (Russian media)
On the night of August 30, Russia experienced up to five drone attacks, marking the largest attack on Russia since the onset of the war. Russian air defenses are facing difficulties, according to the Ministry of Defense of the United Kingdom on Twitter.
As indicated in the summary, explosions were recorded in Moscow, Bryansk, and Ryazan, as well as at Pskov airbase close to the Estonian border. The attack on Pskov likely damaged several Russian military transport aircraft. During August 2023 Russia experienced 25 separate drone attacks, almost certainly carried out by OWA-UAVs.
According to British intelligence, Many of these UAVs have reached their targets, which likely means that Russian air defence is having difficulty detecting and destroying them.
In response, Russia is likely rethinking its air defence posture in the area between Ukraine and Moscow to better deal with these attacks. Previous strikes against Russian military airbases have led to the dispersal of Russian aircraft to locations across Russia. However, the recent strikes against Soltsy and Pskov have demonstrated that the UAVs have significant reach, making further dispersal more challenging.
"It is likely that Russia will have to consider the addition of further air defence systems to airfields that it considers to be at risk from UAV attacks," the Ministry of Defense of the United Kingdom writes.
Attacks in Russia
On the night of August 30, drones targeted six regions of the Russian Federation at once. One of the targets was the airbase in Pskov, where, according to Andrii Yusov, a representative of Ukraine's Military Intelligence Directorate, four Il-76 aircraft were destroyed, with several others damaged.
According to RBC-Ukraine, the operation was organized by Ukraine's Military Intelligence Directorate, although official confirmation or denial of involvement has not been provided by intelligence sources yet.
As stated by Mykhailo Podoliak, an advisor to the President's Office, the strikes on Pskov indicate that the war is increasingly shifting into the territory of the terrorist state, and this process is irreversible.
It is important to mention that the drones target military objectives within Russia, such as airbases, factories, and command centers.