Russia withdraws almost all its troops from Belarus, say Ukraine's Border Guards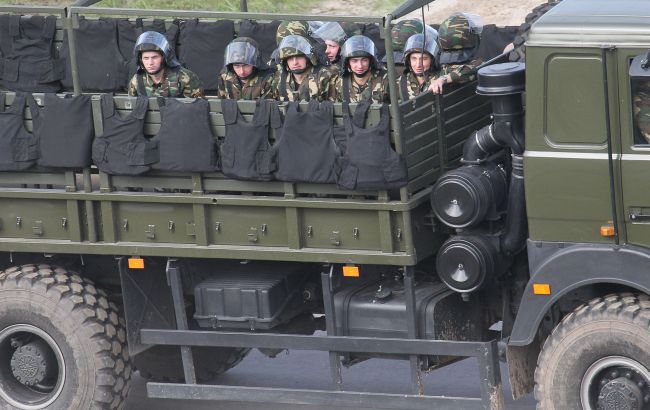 Russia has withdrawn practically all of its military personnel stationed in Belarus (Getty Images)
Another rotation of Russian troops is observed in Belarus. Currently, Russia has withdrawn practically all of its military personnel stationed in Belarus, as Spokesperson of the State Border Guard Service of Ukraine Andriy Demchenko said during a briefing.
According to him, the situation on the Ukraine-Belarus border remains fully under control. Currently, the enemy does not have any formations for a renewed offensive actions from the north.
"Despite everything, we must be prepared for any situation because Belarus, unfortunately, continues to support Russia in its war against Ukraine," the spokesperson said.
Demchenko added that Russia continues to use Belarus as a platform for training its troops. However, the number of Russian personnel in Belarus has significantly decreased at the moment.
"Fortunately, the number of Russian military personnel at Belarusian training grounds has only been decreasing recently. Until recently, we recorded this number at the level of up to 2,000 servicemen, but currently, there has been another rotation, and practically all Russian military personnel have been withdrawn from the territory of Belarus," he stated.
Border guards do not exclude that Russian units will be redeployed to Belarus soon, but this has not been observed yet.
Belarus is helping Russia in its war
From the early days of the full-scale invasion, Belarus has been assisting Russia in the war against Ukraine. In February 2022, the Russian military entered Ukraine from Belarusian territory. Russia also uses Belarus to place its aircraft and troops.
Recently, a division of the S-400 air defense missile system, provided by Russia, went on combat duty in Belarus.
Russia has also announced that it will deploy its nuclear weapons in Belarus. The leader of the Belarusian regime, Alexander Lukashenko, has already used Russian nuclear rhetoric as a threat.