Russia will not withstand long war, there will be no global conflict - Presidential Office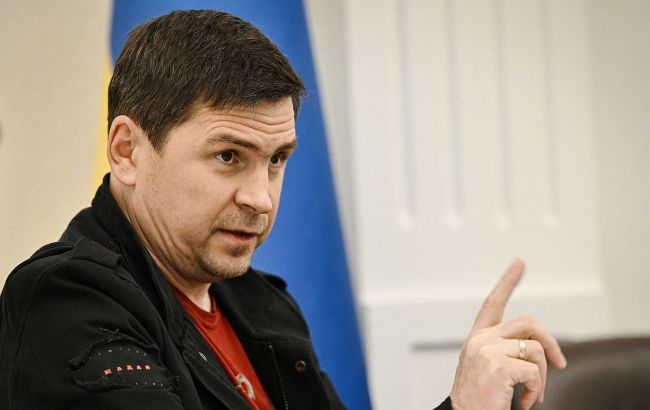 Mykhailo Podolyak, Advisor to the Head of the Office of the President of Ukraine (Getty Images)
The capabilities and resources of Russia, Iran, and North Korea (DPRK) are not enough to pose a real threat of a global military confrontation with countries with stable democracies, according to Mykhailo Podolyak, Advisor to the Head of the Office of the President of Ukraine.
He expressed confidence that in the midst of Russia's ongoing full-scale military aggression against Ukraine and the recent attack by the Hamas group on Israel, a global conflict will not happen.
"Because the resources and capabilities of the Russian Federation, Iran, and North Korea do not compare with the technological and military capabilities of democratic countries. These are entirely incompatible things," Podolyak emphasized.
He also said that countries like Russia are more aggressive on the international stage because "they are thugs, they are always aggressive."
"But in terms of preparation for a global process, and we are entering a global process today, in terms of the scale of resources, Russia is incomparable," Podolyak stated.
He also disagreed with the idea that Russia has the ability to engage in long-term warfare and influence global processes.
"It is nonsense to talk about Russia enduring a prolonged war, which is constantly discussed today, or that Russia could be the initiator of other global changes, and so on. No," Podolyak asserted.
In this context, he called on Western elites not to think that they can return to a "pre-war time."
"No. There are periods in history when one must make tough decisions. What are they today? We need to end the era of Russia's information-propagandistic or diplomatic dominance. I'm not even talking about the military aspect," Podolyak explained.
He thinks that, to achieve this, it is necessary to give Ukraine the opportunity to bring this war to an end.
"And to do this, one must accept the concept that Russia knows how to lose, can lose, and should lose," concluded the adviser to the head of the Office of the President.
Previously, the head of the Main Intelligence Directorate of the Ministry of Defense of Ukraine, Kyrylo Budanov, expressed the opinion that the world is rapidly approaching a global war.
For more on updated forecasts and possible scenarios regarding Russian military aggression, please refer to the RBC-Ukraine article "Protracted war or victory? What scenarios most likely for Ukraine in 2024."