Russia-Ukraine war: Frontline update as of September 26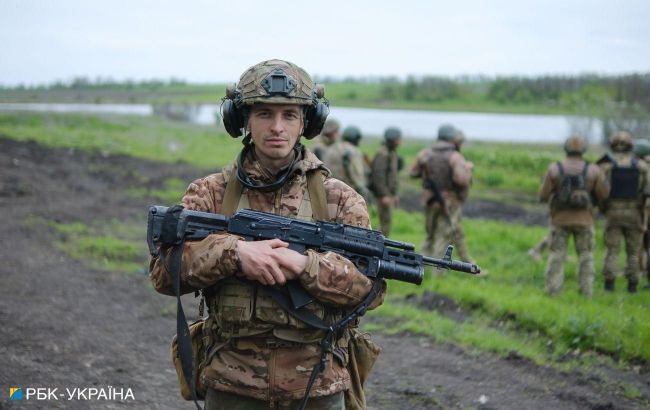 Ukrainian soldier (Vitalii Nosach, RBC-Ukraine)
Ukraine's defense forces continue to hold their ground in the east and south of Ukraine. An offensive operation is underway on the Melitopol and Bakhmut fronts, according to the General Staff.
Russian attacks
Over the past day, the Russian Federation launched 12 Kalibr cruise missiles, 2 anti-ship missiles, P-800 Oniks, and 24 Iranian Shahed-136/131 combat drones against the port infrastructure of the Odesa region and other civilian infrastructure objects.
As a result of successful combat operations carried out by the air defense forces of the Ukrainian Air Force in coordination with air defense units and other components of the Ukrainian defense forces, 11 Kalibr cruise missiles and all 24 enemy Shahed drones were destroyed.
Furthermore, during the night, the occupiers once again attacked Ukraine with kamikaze drones of the Shahed-136/131 type. Information on the consequences of this terrorist attack is currently being clarified.
Frontline situation
On the Siversk and Slobozhanske directions, the enemy maintains a military presence in border areas and conducts active subversive activities to prevent the movement of Ukrainian forces towards critical areas. They are also increasing the density of minefields along the state border in the Belgorod region.
The enemy did not engage in offensive actions in the area under the responsibility of the Khortytsia operational-strategic group on the Kupiansk and Lyman directions.
On the Bakhmut direction, Ukrainian defenders successfully repelled 5 enemy attacks in the area of Klyshchyivka, Donetsk Oblast, where the enemy sought to regain lost ground.
In the area under the responsibility of the Tavria operational-strategic group on the Avdiivka front, defense forces repelled enemy attacks in the areas of Avdiivka and Sieverne in the Donetsk region. On the Maryinka front, the enemy's attempts to dislodge our units from their positions in Maryinka, Donetsk region, over the course of a day resulted in 10 unsuccessful attempts. Additionally, the enemy attempted to regain lost ground in the area of Novomykhailivka, Donetsk region, but without success. Meanwhile, Ukrainian defenders continue to hold their positions on the Shakhtarsk and Zaporizhzhia fronts.
On the Melitopol direction, Ukrainian forces continue their offensive operation, inflicting losses on the occupying forces in personnel and equipment, and consolidating their positions on captured lines, wearing down the enemy.
In the area under the responsibility of the Odesa operational-strategic group on the Kherson front, Ukrainian defense forces continue to conduct counter-battery warfare, destroying depots and successfully striking enemy rear areas.
Russian losses
During the past day, the air force of the Ukrainian Defense Forces launched 11 strikes on areas with concentrated personnel, weaponry, military equipment, as well as 7 strikes on enemy anti-aircraft missile systems.
Missile units inflicted damage to 9 artillery pieces, areas with concentrated personnel, military equipment, ammunition depots, and an enemy electronic warfare station.