Russia strikes minery and hospital in Selydove: Casualties reported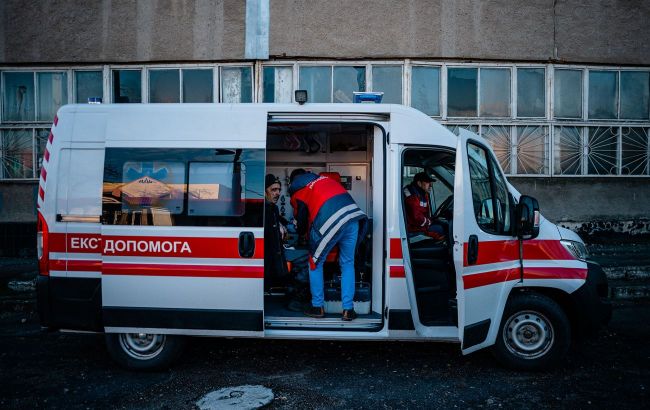 Photo: The Russian Federation struck a mine and a hospital in Selydovo on November 21 (Getty Images)
The Russians staged a massive strike with S-300 missiles on Selidovo in the Donetsk region - a hospital and a mine were hit. Six people were injured, one died, and there may be people under the rubble, says the head of the Ministry of Internal Affairs, Ihor Klymenko.
Attack on the hospital
According to the head of the Ministry of Internal Affairs Ihor Klymenko, the first two rockets hit the territory of the hospital around 11:30 p.m.
"2 buildings of the medical facility were damaged, and 6 civilians were injured," he says.
He adds that there may be victims under the rubble, so search operations are ongoing.
Minery strike
A few minutes after the attack on the hospital, the occupiers launched two more rocket attacks on the mine.
"One employee of the enterprise died," says Klymenko. According to the Ministry of Energy, the deceased is 63-year-old Viktor Kuzhel.
In addition, 39 miners were trapped underground.
"As of now, all the miners have been brought to the surface. 4 buildings, 19 vehicles, and a power line have also been damaged," adds the head of the Ministry of Internal Affairs.
As clarified by the Ministry of Energy, it is about the mine of SE "Selidovuhillia".
"As a result of the hits of two rockets, the mine suffered serious damage. In particular, a 10-meter-diameter hole was created, buildings were destroyed, and power lines were damaged," the ministry says.
Related
Bombardment of Kozacha Lopan
Today, around 06:00, the village was shelled, Kozacha Lopan, of Kharkiv district. As a result of the shelling, a private residential building was damaged and a fire broke out.
"After extinguishing the fire, the rescuers discovered the body of a dead 29-year-old civilian man," said Oleh Synehubov, the head of Kharkiv Regional Military Administration.
Shelling of Kherson
In the morning, the Russians had already managed to attack Kherson. In particular, a residential building was shelled.
"A 59-year-old man was injured in the leg. He was admitted to the hospital for medical assistance," the Kherson Regional Military Administration says, showing a video of the consequences.
Shelling of Ukraine on November 21
The General Staff of the Armed Forces of Ukraine says that the Russian troops launched 11 Shahed-type kamikaze drones and 5 missiles of two types over the territory of Ukraine at night. Air defense worked in Dnipropetrovsk, Volyn regions, and Khmelnytskyi district.
In particular, as the Air Force of the Ukrainian Armed Forces later notes, anti-aircraft defense shot down 9 out of 10 kamikaze drones and one Iskander-K missile, probably in the sky over the Dnipropetrovsk region. In addition, the occupiers launched four S-300 missiles in the direction of Donetsk, probably attacking Selydove.