Russia's withdrawal from Kherson region: Defense Forces on purpose of statement and its cancellation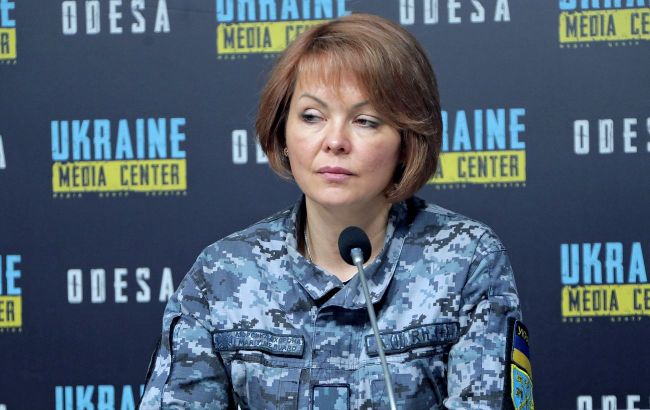 Natalia Humeniuk, head of the United Coordinating Press Center of Security and Defense Forces of the South of Ukraine (Photo: Getty Images)
Russian occupiers claimed their "withdrawal" from the left bank of the Kherson region to provoke a reaction from the Armed Forces of Ukraine, but it did not follow. After this failure, panic ensued in the Russian army, so they had to "cancel" the statement, according to Natalia Humeniuk, head of the United Coordinating Press Center of Security and Defense Forces of the South of Ukraine.
"It is obvious that this is an attempt to assess our forces' readiness and response capabilities to such statements. All the necessary resources have been heated up in the information space for a long time to make such a statement. And they wanted to provoke our reaction, but it did not follow," Humeniuk explained.
She said the Russians understood they had practically received a reverse effect. Panic broke out in their army, discord intensified, and they were forced to retract the statement.
"They don't have perfect conditions there. Because there is indeed a morally and psychologically critical situation in the units on the left bank. Desertion is thriving there; there are disputes between units and no harmony. And all this complicates the combat work in those conditions when the Defense Forces press on the presence of troops on the left bank," the spokesperson noted.
Background
On the morning of November 13, Russian media, citing statements from the Russian Ministry of Defense, spread the news of the ministry's decision to regroup the "Dnipro" forces from the composition of the occupation contingent in Kherson. They allegedly planned to withdraw them east of the Dnieper based on the "assessment of the situation that has developed."
Thus, the Russian Ministry of Defense explained such maneuvers with plans to release some forces "engaged in advancing in other directions."
However, a little later, this statement by Russia about the regrouping of forces in the occupied areas of the Kherson region was canceled.