Russia's losses on Tavria front: Five warehouses, dozens of vehicles and more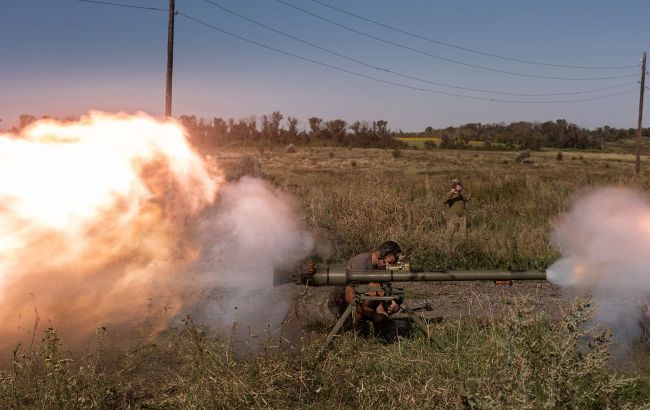 Illustrative photo (Getty Images)
On the Tavria direction, Russian occupants lost five warehouses, 35 pieces of equipment and 190 soldiers over the past day, according to the commander of the Tavria operational and strategic group, Brigadier General Oleksandr Tarnavskyi.
Tarnavskyi said that artillery units of the Ukrainian Defense Forces carried out 949 fire missions over the past 24 hours.
"Over the past day, enemy losses amounted to 190 individuals (62 confirmed fatalities, 127 wounded, 1 captured)," Tarnavskyi reported.
Furthermore, the general noted that the Ukrainian Armed Forces had successfully destroyed 35 pieces of Russian military equipment.
"Specifically, 1 tank, 6 armored personnel carriers, 3 artillery systems and mortars, 1 rocket artillery system, 15 unmanned aerial vehicles, 8 units of automotive equipment, and 1 unit of special equipment were eliminated. Additionally, 5 enemy ammunition depots were confirmed destroyed," he added.
Russian losses in Ukraine
A day earlier, Tarnavskyi said that the Ukrainian Armed Forces destroyed 38 pieces of enemy military equipment and four pieces of ammunition on the Tavria direction.
As of the morning of Tuesday, September 26, the Ukrainian Defense Forces have eliminated 400 occupiers, bringing the total losses for the Russian army since the beginning of the war to 276,670 military personnel. Additionally, the Ukrainian Armed Forces have destroyed 39 artillery systems and 29 enemy drones.
According to RBC-Ukraine's sources, Ukrainian military attacked a temporary command post of the occupiers in the Kherson region, eliminating 8 Russian officers and injuring another 7.