Russia's losses in Ukraine as of October 3: Another 360 troops and 40 artillery systems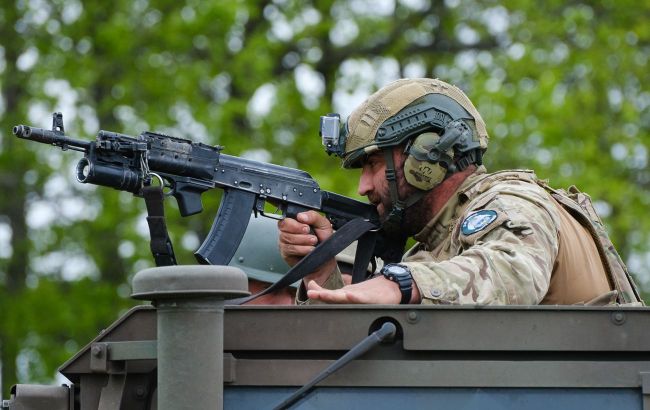 Ukrainian soldier (Vitalii Nosach, RBC-Ukraine)
Over the past day, Ukrainian Armed Forces have eliminated another 360 Russian occupiers, bringing the total losses of enemy troops in Ukraine to 279,440 soldiers. Furthermore, Ukrainian defense forces destroyed 15 Russian tanks and 40 artillery systems during the previous day, according to the General Staff of the Armed Forces of Ukraine.
The overall Russian combat losses from February 24, 2022 to October 3, 2023 are estimated as follows:
Personnel: Approximately 279,440 (+360) individuals eliminated.
Tanks: 4,732 (+15) units.
Combat armored vehicles: 9,008 (+8) units.
Artillery systems: 6,565 (+40) units.
Multiple launch rocket systems (MLRS): 801 units.
Anti-aircraft missile systems: 540 units.
Aircraft: 315 units.
Helicopters: 316 units.
Tactical UAVs: 5,080 (+20) units.
Cruise missiles: 1,529 units.
Ships/boats: 20 units.
Submarines: 1 unit.
Automotive equipment and tankers: 8,932 (+23) units.
Specialized equipment: 943 (+5) units.
"Due to the constant receipt of refined intelligence data during the past period, there was a need to adjust certain positions regarding the overall enemy losses," stated the military command.
Frontline situation
According to the morning briefing on October 3 from the General Staff of the Armed Forces of Ukraine, there were 35 combat engagements on the fronts during the past day.
Ukrainian forces are conducting an offensive operation in the Melitopol direction and managed to successfully repell Russian attacks near the village of Makiivka in the Luhansk region.
The Ukrainian defense forces also delivered 11 strikes on areas of the enemy's personnel concentration.