Russia produces drones from foreign components: Ukraine's allies among leading suppliers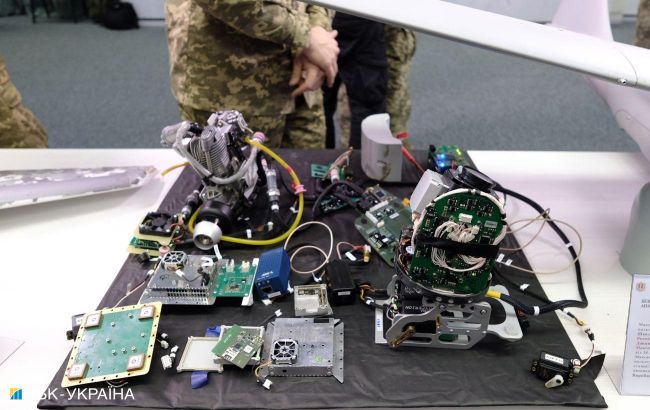 Ukraine's allies are among leading suppliers for Russian drones (Photo: RBC-Ukraine, Vitalii Nosach)
While attacking Ukraine, Russia regularly employs three types of drones - Shahed-136/131, Lancet, and Orlan-10. All of them contain foreign components, according to the findings of the International Working Group on Sanctions against Russia, published by the Office of the President.
Which countries supply Russia with drone parts?
The mentioned drone models were found to contain 174 foreign components. According to the research, China is the primary supplier of critically essential elements for Russian drones (67% of supplies, with 17% of them going through Hong Kong). Türkiye supplies 5% of the components, and the United Arab Emirates provides 2%. Additionally, the drones were found to have components manufactured in Japan, South Korea, Switzerland, and other countries. These include processors, microchips, transistors, and other vital parts.
These components can be acquired through publicly accessible platforms, complicating regulatory oversight. Therefore, the International Working Group, led by the Head of the Office of the President of Ukraine, Andriy Yermak, and the Director of the Freeman-Spogli Institute for International Studies (FSI), Michael McFaul, calls on manufacturers to do more to prevent Russia's access to their products in circumvention of economic sanctions.
"Russia actively uses drones for mass attacks on infrastructure, civilian, and military objects in Ukraine, so it is very concerning to see that vital components for producing hostile UAVs come from different countries, including Ukraine's allies," Yermak emphasized.
Experts suggest measures to prevent foreign components from reaching Russia to strengthen control. Among these measures, experts point out the need to coordinate sanction lists between partner countries, standardize lists of dual-use goods, and expand the categories of sanctioned goods based on Harmonized System codes.
To enhance cooperation between manufacturers and authorities, governments should investigate known companies that are not complying with sanctions. Additionally, using mechanisms to combat money laundering could strengthen export control measures, as bypassing sanctions often involves similar money laundering schemes.
In addition to drones, Russia also manufactures missiles using foreign components. In August, Russians attacked Ukraine with X-101 missiles, which, according to Yermak, were manufactured in April this year and include around 30 foreign microchips.