Russia never comes forever: Zelenskyy congratulates Kherson year after liberation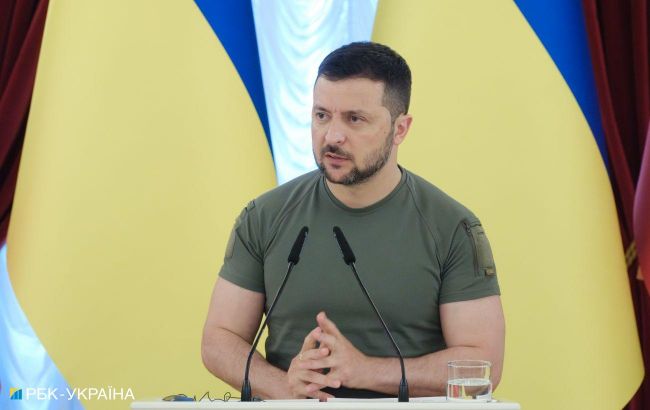 Photo: Volodymyr Zelenskyy, President of Ukraine (Vitalii Nosach, RBC-Ukraine)
President Volodymyr Zelenskyy congratulated Kherson on the day of liberation from Russian invaders. Last year, the south of Ukraine saw that Russia never comes forever, reported with reference to the video address of the President of Ukraine.
"Today marks the first anniversary of the liberation of Kherson from Russian occupation. The city-hero. The city-symbol. The city of hope. The city of our people who did not yield to the enemy force and inspired resistance in all of us and the whole world. It is our blue-yellow flags that again and again proved on the streets of Kherson and in many houses and apartments that Ukraine is one. All - from the northern border to our sea," said Volodymyr Zelenskyy.
Despite regular Russian narratives, a year ago, the south of Ukraine realized that Russia never comes forever. Thanks to the Kherson operation, our military liberated the right bank of the Dnipro from terrorists. Last year, the military freed a significant part of the Kherson region, added protection to Mykolaiv and Odesa, and solidified Ukraine's success in the battle for the Black Sea.
"Crimea was then in the smiles of Kherson residents, in words of joy, welcoming our soldiers – Crimea felt its future and saw how close we are," added the president.
Over the past year, as noted by Volodymyr Zelenskyy, Russia has been retaliating for the liberation of Kherson and other freed settlements. The enemy resorts to artillery and missile shelling every day. Just from yesterday evening to this morning, terrorists used almost forty drones and missiles.
"None of us should underestimate the enemy against us. Ukraine knows that the enemy is not weak, not voracious. But Ukraine knows how to overcome it! Like last year, Russia seeks to destroy our country, and our lives. Like last year, we must destroy the occupier. Ukraine is doing that," said Volodymyr Zelenskyy.
Liberation of Kherson
Last year, Ukrainian soldiers successfully conducted a counteroffensive in southern Ukraine. It was then that our military managed to liberate the right-bank part of the Kherson region from the enemy. Kherson also returned under Ukrainian control. It was the only regional center occupied by the Russians in February-March 2022.