Russia may prepare to test nuclear missile Burevestnik: NYT reports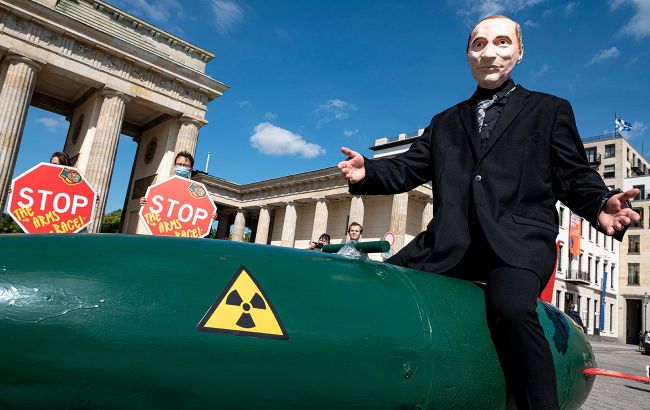 Illustrative photo (Photo: Getty Images)
Russia is likely preparing to test its intercontinental cruise missile Burevestnik, which can carry a nuclear warhead, according to The New York Times.
The article analyzes satellite images of the Rogachevo airfield, located on the island of Northern Arkhangelsk region. In the image from September 20, it is noticeable that there is a large amount of equipment at the airfield, including a truck with a trailer that likely corresponds to the size of a missile.
Photo: Satellite image from September 20 (nytimes.com)
A similar truck and equipment were also spotted in satellite images taken on September 28.
According to the information, on September 31, the Russian authorities recommended pilots not to fly in the area of the North Island. Since then, this warning has been extended several times, and as of today, it is in effect until October 6.
"The notice has since been extended several times and, as of Sunday, was scheduled to be in force through Oct. 6. Russia issued a similar notice before a Burevestnik test in 2019," the journalists write.
Moreover, as reported by the NYT, in early August, two Russian aircraft responsible for collecting data on missile launches were observed approximately 160 kilometers south of the launch site.
Photo: Satellite images of airplanes (nytimes.com)
They remained at this base at least until September 26. Similar planes of the same type were also near during the testing of the Burevestnik in 2018.
What is known about the Burevestnik
It's worth noting that Burevestnik is an intercontinental cruise missile, which, as claimed by the Russians, is capable of hitting targets thousands of kilometers away.
Representatives of the aggressor country have repeatedly boasted that the missile is equipped with a nuclear engine, which enables it to cover such distances.
However, all the tests of the Burevestnik conducted by Russia have been unsuccessful. The missile reached a maximum distance of 35 kilometers before crashing into the sea.
As a reminder, Ukrainian President Volodymyr Zelenskyy previously called for Russia to be deprived of nuclear weapons.