Russia launches 'Shahed' strikes on Danube ports: destruction and casualties reported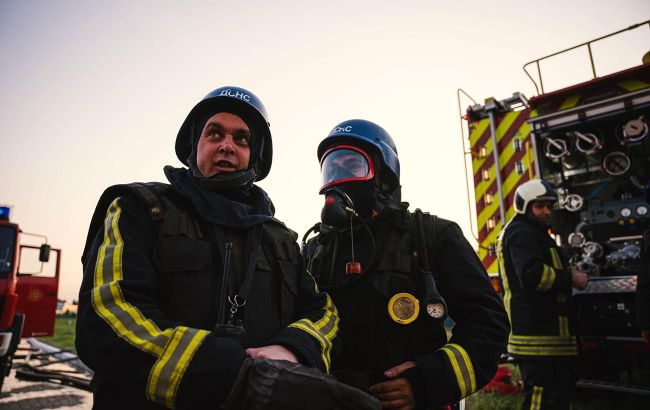 The aftermath of the Russian nighttime air attack on the Odessa region (Photo: facebook.com/Sergey Kruk)
According to the statement of the spokesperson of the Southern Ukraine Defense Forces, Natalia Humenyuk, in another airstrike on the Odesa region, Russia targeted the Danube ports during the night of July 24. The assailants carried out the attack using "Shahed" drones, resulting in damage to the infrastructure.
Humenyuk stated that the Ukrainian Air Defense Forces managed to intercept and destroy three enemy "Shahed" drones, but some of the drones still succeeded in hitting their targets.
According to her, the attack caused casualties and resulted in severe damage to the port facilities. "Unfortunately, one of the ports was hit, and an agricultural hangar, containing grain, was destroyed. Several other reservoirs used for different types of cargo were also damaged, including the port's cranes and other objects. We have information about three port workers who were injured. The extent of the attack's consequences is currently being assessed," she said.
Meanwhile, OC "South" reported that there were preliminary reports of four port workers being injured, but the information is still being verified.
A statement from the military revealed that the nearly four-hour drone attack with "Shahed-136" drones targeted the Danube port infrastructure. The Ukrainian anti-aircraft defense forces successfully destroyed three of the drones.
During the attack, a fire broke out in one of the grain warehouses, but it was promptly extinguished.
Recent Russian attacks on Odesa and the region
On the night of July 24, Russian occupiers once again launched drone attacks on the Odesa region, resulting in explosions during the air raid alarm in the southern part of the region.
It should be noted that the previous night, on July 23, Russian forces fired 19 missiles of different types at the center of Odesa. The Ukrainian Air Defense Forces managed to intercept and bring down nine of them. However, the attack on the city marked the most massive strike since the start of the full-scale war.
The Russian missiles targeted Odesa's historic center, causing partial destruction to the Transfiguration Cathedral (Spaso-Preobrazhenskiy Cathedral).
Additionally, it's worth noting that following Russia's exit from the "grain agreement," the country has been launching almost nightly rocket attacks on Odesa and the surrounding region. The enemy has been using kamikaze drones and missiles of various types to target the Kherson and Mykolaiv regions, leading to the deaths and injuries of civilians.
Earlier on July 23, the occupiers carried out another combined attack on Odesa and the region, using cruise missiles like "Oniks," "Kh-22," and "Kalibr." As reported by Odesa Regional Military Administration, this shelling caused damage to civilian objects and residential buildings.