Russia keeps shelling Ukraine, aiming to halt Ukrainian advance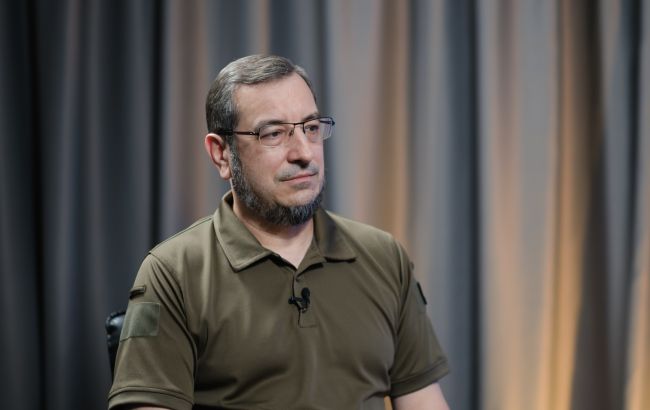 Deputy Chief of the Main Intelligence Directorate of the Ministry of Defense of Ukraine, Vadym Skibitsky (Vitaliy Nosach, RBC-Ukraine)
The Russian Army continues shelling Ukraine as part of their efforts to restrain the advance of Ukrainian forces, according to Deputy Chief of the Main Intelligence Directorate of the Ministry of Defense of Ukraine, Vadym Skibitsky, in an interview with RBC-Ukraine.
He noted that Russia is actively utilizing aviation along the entire front line, launching 20-25 aviation bombs per day. Russia seeks to disrupt the logistics of the Ukrainian forces, targeting concentration areas and striking objects associated with the country's defense, particularly those related to the capabilities of the Armed Forces.
"We can see this happening for real: starting from May, apart from the attacks on Kyiv and other cities, direct strikes are being carried out on our airfields, oil refining enterprises, and facilities where fuel and lubricants are stored, as well as other resources used by our Armed Forces and Defense Forces. The main objective is to prevent our active actions on the front line," said Skibitsky.
According to intelligence estimates, despite Russia's attempts to conserve missiles, attacks on Ukraine will continue.
"This is because the campaign conducted in autumn and winter, where they used 80-100 missiles in a single strike, has depleted the arsenals and reserves of the Russian Federation. Today, we see that whatever is produced is immediately sent to the military for further use," added the representative of the Main Intelligence Directorate.
Skibitsky further mentioned that Russia has started using fewer missiles in a single strike but continues to keep Ukrainians under pressure by shelling rear regions on a daily basis.
"Speaking about large cities, people have to go to bomb shelters in the middle of the night, especially if they have young children. This exhausts people. And perhaps, the Russian regime also counts on creating some anxiety and destabilizing the situation in our country. But we are prepared for all of this," said the intelligence officer.
Russian attacks

Since May, Russian occupiers have been launching near-daily attacks on Ukraine, employing Iranian kamikaze drones and various types of missiles. Russia has also increased the frequency of strikes using air-to-surface and ballistic missiles.
Last night was no exception as the Russians launched 13 Kh-101/Kh-55 missiles from the Caspian Sea region. The Ukrainian Air Defense Forces successfully intercepted all hostile targets.
The Ukrainian Air Force reported that the enemy attempted to attack a military airfield in the Khmelnytskyi region.