Russia imitates the construction of defense facilities in Kursk region: Photo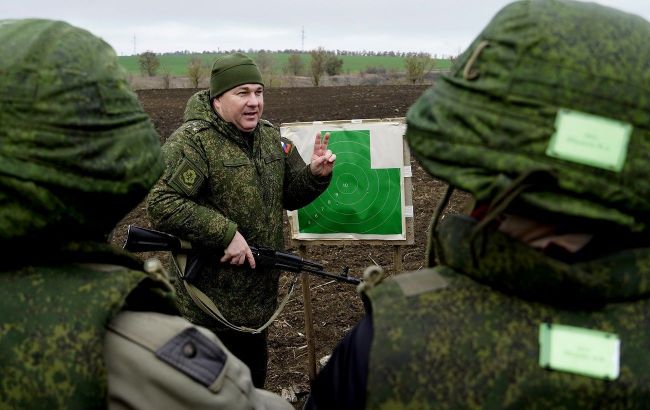 Russian military (Photo: Getty Images)
There is an ongoing simulation of fortifications and the construction of strongpoints with military equipment and personnel near the Russian-Ukrainian border in the Kursk region of Russia, according to the Center for National Resistance (CNR).
The CNR reported new instances of embezzlement by Russian officials of funds allocated for these defensive structures in the region, specifically along the border with Ukraine.
"We have evidence of embezzlement concerning the defensive structures in the Kursk region, orchestrated by the corrupt local governor and the Russian military," the Center noted.
The publication includes relevant photographs and aerial reconnaissance materials, indicating that "practically all strongpoints are devoid of personnel and equipment, with most of them already overgrown with shrubbery."
The strongholds and fortifications in the Russian Kursk region (Photo: sprotyv.mod.gov.ua)
The CNR also highlighted that the fighters of the Kursk Partisan Army continue to assist the Ukrainian Armed Forces in identifying enemy dispositions in the region.
According to the resource, virtually all Russian military personnel have been redeployed to Ukraine in the Zaporizhzhia and Donbas regions, where they were systematically eliminated during the Ukrainian counteroffensive in the south and east.
"At the same time, the Russian leadership is successfully 'appropriating' the funds of ordinary citizens of the empire, and such a state of affairs suits them," the CNR added.
In the Kursk region of the Russian Federation, strongholds and defense areas are without equipment and personnel, and are overgrown with shrubs (Photo: sprotyv.mod.gov.ua)
Border reinforcements in Russia
The frontier regions of Russia bordering Ukraine have been undergoing various anti-tank fortification construction, including installing "dragon's teeth" and other defensive structures since last year. The Russians have explained these actions as precautions against a supposed Ukrainian incursion onto Russian territory.
Furthermore, recent reports from analysts at the Institute for the Study of War have indicated that Russian border guards, particularly in the Bryansk, Kursk, and Belgorod regions, are grappling with a lack of capabilities and equipment to counter potential cross-border raids into Russian territory and combat drone attacks.