Russia deploys strategic winter reserves to the front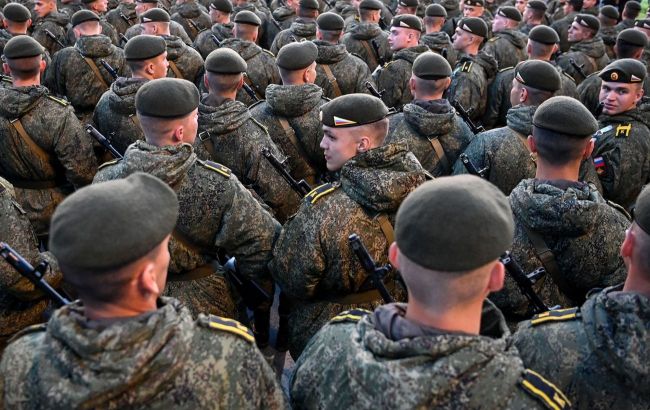 Russia is withdrawing reinforcements from winter reserves (photo: Getty Images)
The Russian Federation has already deployed its 25th Army on the eastern front, which was originally planned to be mobilized from reserve forces during the winter period, states the Chief of the Press Service of the Eastern Military Group, Ilia Yevlash.
"This army consists of 12,000 servicemen of the Russian Armed Forces. It is a newly formed army that was assembled over the past year from a diverse contingent, including mobilized personnel and former members of disbanded units who had previously suffered significant setbacks at the hands of the Eastern Defense Forces. Currently, it has been deployed along the line of confrontation in the Lyman-Kupiansk direction," stated Yevlash.
According to him, the 25th Russian Army is composed of motorized infantry units, artillery, and tank forces, although it is predominantly equipped with older technology.
"In this unit, there are issues as they are being equipped with weaponry that has been taken out of storage, de-preserved, and hastily brought to minimal combat readiness," he noted.
Yevlash also added that the effectiveness of these units in action remains low.
He further pointed out that Russian servicemen who were mobilized over a year ago are refusing to engage in combat. Therefore, the Russian command is seeking new solutions and deploying new structural units in this direction. Russia is attempting to compensate for losses by deploying these reserves.
"I want to emphasize that Russia continues to mobilize its strategic reserves, indicating an insufficient number of personnel, as tactical reserves have already been depleted. Furthermore, this army was originally planned for mobilization during the winter period, but due to a lack of personnel, they are already deploying it," the spokesperson explained.
Mobilization in Russia
Despite Russia not formally declaring a state of war, they have been actively mobilizing for the past two years. While Russia portrays the conflict to its citizens as a "Special Military Operation" (SMО), active mobilization efforts are underway.
Recently, the General Staff of the Armed Forces of Ukraine stated that during the new wave of mobilization, Russia aims to call up between 400,000 to 700,000 individuals. This mobilization is expected to extend to Chechnya and the temporarily occupied territories of Ukraine.
We also reported recently that Russia has initiated compulsory mobilization of local populations in the temporarily occupied territories of the Zaporizhzhia region.
Additionally, earlier reports from "Vazhlivi Istorii" indicated that mobilized Russians are dying in the conflict in Ukraine, on average, within four to five months of receiving their conscription notices, and one in every five occupiers does not survive beyond two months.