Russia claims alleged repulsion of attack on the Crimean Bridge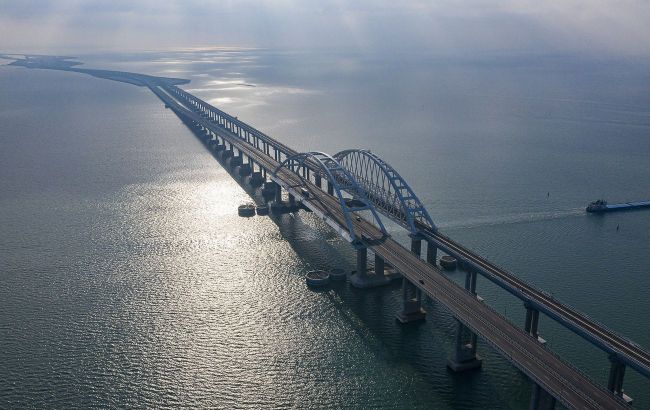 In Russia, it has been claimed that they allegedly repelled an attack on the Crimean Bridge (photo: wikipedia.org)
In Russia, claims have emerged suggesting the alleged repulsion of an attack on the Crimean Bridge involving the use of a semi-submersible maritime drone, according to Russian media.
"An attempt to strike the Crimean Bridge with a semi-submersible unmanned boat was made around 23:15. The maritime drone was detected and promptly destroyed in the Black Sea waters," stated the Russian Ministry of Defense.
Despite the announcement of repelling the drone attack, the Operational Headquarters reported that the movement of automotive traffic on the Crimean Bridge has been temporarily halted.
The attack on the Crimean Bridge
The Crimean Bridge, which was built by Russia unlawfully, has been attacked twice before.
In October 2022, powerful explosions occurred on the bridge, causing significant damage. The head of the Security Service of Ukraine (SBU), Vasyl Maliuk, confirmed that this was a special operation carried out by his agency.
Another attack on the Crimean Bridge took place in July, during which two spans were destroyed. Maliuk also confirmed SBU's involvement in this attack, stating that it was organized using Sea Baby maritime drones.