Rheinmetall will supply about 30 Leopard 1 tanks to Ukraine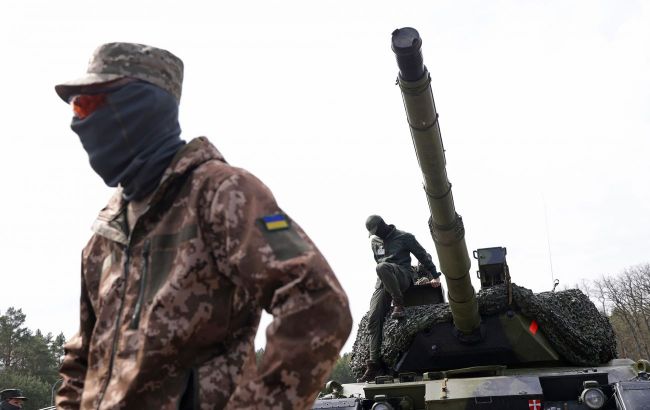 Leopard 1 tanks to be delivered to Ukraine (Photo: Getty Images)
The Ukrainian government has signed a contract with the German company Rheinmetall to supply Leopard 1 systems, including 25 main battle tanks Leopard 1A5, five armored recovery vehicles (Bergepanzer 2), and two driver training tanks. The delivery is expected to take place in 2024, according to the company's announcement.
"The order, financed by Germany and worth a figure in the upper-two-digit million-euro range, also includes training, logistics, spare parts, maintenance and other support services," the statement said.
According to the company, Leopard 1 systems are currently undergoing a significant overhaul at Rheinmetall plants in Unterlüß and Kassel, getting ready for use.
This contract demonstrates Rheinmetall's continued support to Ukraine with regular deliveries of tactical vehicles. Previously, the group supplied 80 infantry fighting vehicles Marder to Ukraine, most of which are already in the country and have proven their resilience in ongoing operations.
Moreover, Rheinmetall is ready to deliver an additional 20 Marder infantry fighting vehicles once the relevant order is received. Ukraine will also receive five airborne Caracal vehicles at the end of 2023 or the beginning of 2024. Additionally, on the governments' orders of the Netherlands and Denmark, the group will supply Ukraine with 14 Leopard 2A4 tanks next year. Besides vehicles, Rheinmetall assists the Ukrainian armed forces with ammunition, drones, medical supplies, and more.
Rheinmetall's arms supplies to Ukraine
The German company Rheinmetall is involved in several projects to support Ukraine, including supplying infantry fighting vehicles Marder, ammunition of various calibers, field hospitals, military trucks, and the reconnaissance system LUNA Next Generation.
The company is also a partner in numerous multilateral agreements within the framework of Ringtausch. This procedure, developed by the German government, is designed to support Ukraine in collaboration with European neighbors of the Federal Republic of Germany and NATO partners.
In October, Ukraine and Rheinmetall established a joint venture. The joint venture will service and repair the equipment supplied to Ukraine by allies. Localization of production for leading Rheinmetall AG technology samples will also take place at this facility.