RF changes commander on Kherson front: Military revealed enemy's purpose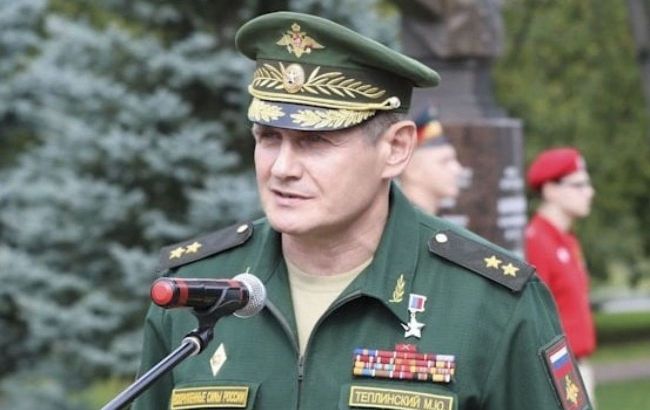 Photo: Colonel general Mykhail Teplinsky (Russian media)
The Russian military leadership has replaced the commander who was in charge of the temporarily occupied territories in the Kherson region, appointing General Mikhail Teplinsky in his place. Such appointments are usually made when the occupiers believe that a change in tactics and strategy is necessary, according to the information shared by Natalia Humeniuk, the spokesperson for the United Coordinating Press Center of Security and Defense Forces of the South of Ukraine, during a national telethon.
According to her words, such actions by the occupiers indicate that the previous commander did not meet their expectations regarding the development of events on the Ukrainian left bank.
"The Zaporizhzhia direction has significantly weakened in their understanding: the dragon's broken teeth didn't stop the pressure from the Defense Forces. And the Kherson direction continues its counter-battery warfare and achieves rather convincing results," said Humeniuk.
She also explained that Moscow typically changes the commander before making significant military decisions on the front. Ukrainian defenders, on their part, are creating all conditions for the adversary to make such a decision as difficult as possible.
The UK Ministry of Defense had announced the appointment of a new commander by the occupiers on the Kherson direction, Colonel general Mikhail Teplinsky, indicating an increase in pressure on the occupiers' formations in the south from the side of the Ukrainian Armed Forces.
Appointment of Teplinsky
Earlier, there were reports of a new rotation of Russian generals on the Kherson direction in a report by the Institute of War Studies. According to the compilers of the report, Russia likely replaced Colonel general Oleg Makarevich, who was in charge of the Dnepr group, with the commander of the Airborne Forces, Colonel general Mikhail Teplinsky. Later, this information was confirmed by Russian media.