Revolutionary future transportation unveiled in Austria: CycloTech's CruiseUp concept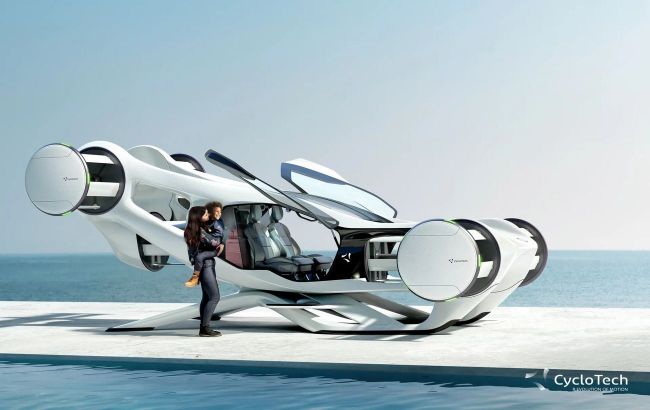 The transport of the future presented in Austria (Photo: CycloTech)
Austrian startup CycloTech has presented a concept for a two-seater flying car called CruiseUp, which they have been working on for the past 15 years. Recently, the development team successfully tested a prototype of the flying car, which weighs 80 kilograms, according to one of the world's largest independent scientific and technical publications, New Atlas.
The flying vehicle is based on the CycloRotor propulsion system, which consists of six cyclo-rotors, although only four of them are visible from the outside. The other two are located at the front and rear of the cabin and can rotate around the longitudinal axis.
This innovative system allows for rapid 360-degree changes in thrust direction, providing precise control in all directions – left, right, forward, backward – as well as the ability to rotate and hover smoothly in the air. Additionally, the air vehicle can take off and land without abrupt movements or tilting, ensuring high safety for passengers. The moving parts of the system are concealed within a separate unit.
The CruiseUp air vehicle (photo: CycloTech)
CruiseUp is approximately one and a half times larger than a standard car and offers only two seats and a small trunk. Its length is 6.7 meters, and its width is 3.3 meters. Thanks to these compact dimensions, the air vehicle can easily land in a backyard and fit into a standard garage, which is an important feature for the developers. They plan to position their invention as personal transportation rather than commercial.
Thanks to its compact size, the air vehicle can easily land in a backyard (photo: CycloTech).
The maximum speed of the air vehicle is limited to 150 kilometers per hour, and it has a range of 100 kilometers.
Mass production of the CruiseUp is planned to be launched by 2035. By that time, the company hopes to introduce a fully operational and ready-to-use version of the air vehicle.