Received сlear signal: Ukrainian MFA hints at positive EU Commission report on Ukraine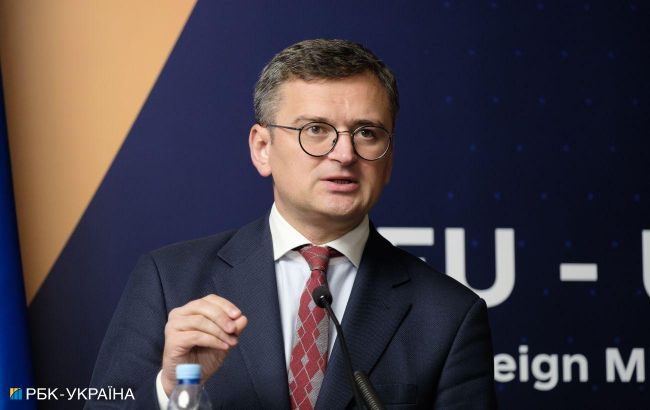 Minister of Foreign Affairs of Ukraine, Dmytro Kuleba (Photo: Vitalii Nosach, RBC-Ukraine)
The European Commission has sent a clear signal that Ukraine is moving towards opening negotiations on EU membership, according to the Ministry of Foreign Affairs of Ukraine on Facebook.
"I cannot go into details... But the clear signal I received from all the interlocutors is that the European Commission will make a final decision tomorrow at the meeting of the Euro Commission, and that signal is that Ukraine is moving towards a decision of the European Council in December of this year on opening negotiations," Kuleba said after the negotiations in the Euro Commission.
He notes that if no force majeure events occur, initial negotiations will begin in December. There is political will in both Ukraine and the European Union for this.
Kuleba also comments on rumors that Ukraine has only fulfilled four out of seven EC recommendations for opening accession negotiations. According to him, the European Commission "does not think in terms of one out of seven or two out of seven.
"The essence is in the final result. When we focus on how many recommendations Ukraine has fulfilled, we divert the discussion from the main point - whether there is a result or not. I have reason to believe that there will be a result," the minister emphasized.
According to the head of the Ministry of Foreign Affairs, making an issue out of Ukraine not fulfilling all the recommendations is an attempt to "turn an imminent victory into 'betrayal.'"
"This is incorrect, Ukrainians should not fall for it," the official concluded.
What preceded this
Earlier, Radio Liberty reported that Ukraine had fulfilled four out of seven recommendations necessary to begin negotiations for our country's accession to the EU.
According to journalists, the following are considered fulfilled: the reform of the Constitutional Court; the continuation of judicial reform; the fight against money laundering; the harmonization of audiovisual legislation with the European one.
However, Ukraine still needs to implement: an anti-corruption reform, including the appointment of the head of the Specialized Anti-Corruption Prosecutor's Office; the adoption of an anti-oligarchic law; the approval of changes in legislation concerning national minorities.