Putin to press exporters to halt ruble's crash - Bloomberg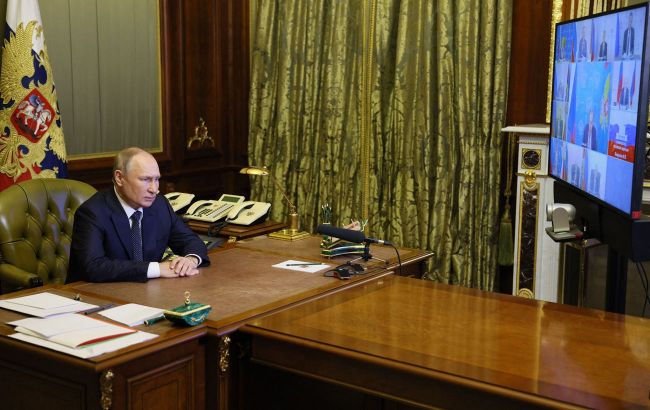 Putin to press exporters (Photo: Getty Images)
According to Bloomberg, Russian authorities are set to avoid strengthening capital movement restrictions and will instead prepare recommendations for exporters to persuade them to relinquish a significant portion of their foreign earnings in a bid to stabilize the ruble.
Following President Vladimir Putin's meeting with senior officials on Wednesday, the government is now formulating informal measures to control capital movement, according to anonymous sources cited by Bloomberg.
Guidelines for major exporters are being prepared on an individual company basis and will go beyond mandatory foreign revenue sales, including transfers in hard currency, such as dividend payments and loans, sources have disclosed.
Putin was briefed on the plans during the meeting involving Central Bank Chair Elvira Nabiullina and Finance Minister Anton Siluanov, as reported by the "Vedomosti" newspaper. Depending on the ruble's performance, formal control over capital movement might still be an option, according to Bloomberg's sources.
Despite the ruble's growth earlier this week, it remains among the worst-performing emerging market currencies, having lost approximately 22% since the beginning of the year.
Ruble plunge
The recent sharp decline in the value of the Russian currency has brought discussions about tightening capital movement controls back onto the government's agenda. Russia had already implemented such measures last year to prevent a ruble collapse after the US and its allies imposed extensive sanctions in response to the invasion of Ukraine.
Due to the unexpected windfall from the surge in commodity prices, some of the restrictions were lifted after the ruble strengthened to a point that posed budgetary challenges, eroding revenues from oil and gas exports.
Rate hike
Amid pressure on the ruble, the central bank declared last week that it would refrain from foreign currency purchases. This decision was accompanied by a sharp increase in interest rates to 12% during an emergency meeting on Tuesday.
Discussions within the government escalated this week after the ruble briefly crossed the 100-mark against the dollar for the first time since March of last year. Initiatives were initially debated during a meeting involving the government and exporting companies on Monday.
According to leaders from two firms, officials informed exporters that some of the considered measures could extend to dividend payouts and corporate loans. Both companies increased their export earnings last week when it became apparent that the government might institute formal control over capital movement.
According to the central bank's data, Russian exporters already sell over 80% of their revenue on the market. In July, Nabiullina stated that the Bank of Russia closely monitors foreign currency sales by exporters, and only 1% of their earnings remain outside the country.