Putin instructs Defense Minister to stop Ukrainian Armed Forces counteroffensive by early October - ISW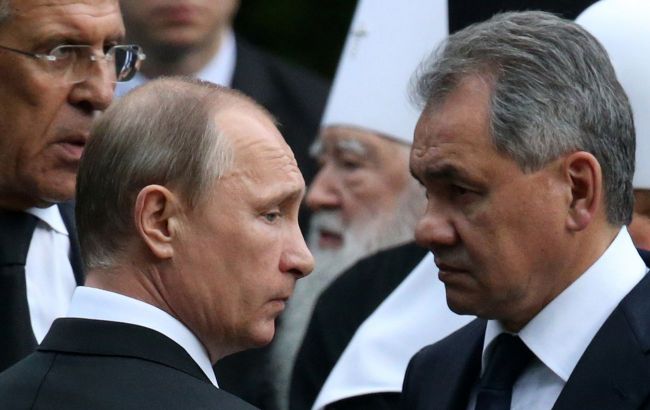 Russia's dictator Vladimir Putin and Defense Minister Sergei Shoigu (Photo: Getty Images)
Russian dictator Vladimir Putin has reportedly instructed Russian Defense Minister Sergei Shoigu to halt the Ukrainian counteroffensive until the beginning of October 2023, according to a report by ISW mentioning an insider source within the Kremlin.
"A Kremlin insider source claimed that Putin reportedly gave Russian Defense Minister Sergei Shoigu a deadline of one month until early October 2023 to improve the situation on the frontlines, stop Ukrainian counteroffensives, and have Russian forces regain the initiative to launch an offensive operation against a larger city," the statement reads.
The report by ISW suggests that this insider's statement may indicate that the Russian military command possibly issues orders for continuous counterattacks, hoping to bring the Ukrainian counteroffensive to a climax, even if it results in significant losses to the Russian military potential.
Furthermore, the ISW report reminds that Putin first acknowledged the start of the Ukrainian counteroffensive on June 9. He discussed it in two points: allegedly, Ukrainian forces would not succeed significantly due to well-prepared Russian defenses, and Ukrainian troops would suffer substantial losses in personnel and Western military equipment.
"Putin and the Kremlin have been framing Russian defensive operations as a major battlefield victory, and persistent Russian counterattacks allow the Kremlin to claim these operations as individual victories amidst the general lack of Russian battlefield advances elsewhere," the report states.
Ukrainian counteroffensive
Previously, Bloomberg reported Ukraine steadfastly seeks progress on the battlefield and is raising the cost of the war for Russia. This is happening despite the gloomy assessments by some allies regarding the supposedly slow pace of the counteroffensive. According to analysts from the Institute for the Study of War, Putin manipulates the topic of negotiations with Ukraine, suggesting that the Ukrainian counteroffensive disrupts the beginning of the peace process. Meanwhile, the occupying contingent of the Russian Armed Forces continues its assaults and attacks in Donbas. Kremlin attempts to portray the counteroffensive as unsuccessful to boost the morale of the occupiers.