Putin drove himself into a bunker. NATO should not look back at the Kremlin when making decisions - Zelenskyy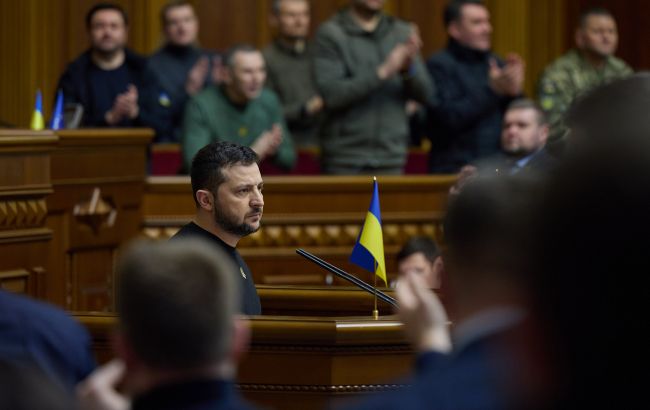 President of Ukraine, Volodymyr Zelenskyy (Photo: Getty Images)
NATO allies should stop looking back at Russia when making important decisions, such as Ukraine's accession to the Alliance, said Ukrainian President Volodymyr Zelenskyy during his speech in the Parliament on the occasion of Constitution Day.
"Russia loses when it encounters bold and confident resistance. The free world possesses all the armed, sanctions, political, economic, and moral advantages that allow building full protection against any Russian encroachments and blackmail," he said.
Zelenskyy noted that NATO had two fundamental weaknesses in recent years.
Firstly, there was doubt whether Article 5 of the Collective Security Treaty would actually work. The world doubted whether the Alliance would defend the countries on the eastern flank in case of Russian aggression against them.
Secondly, many in the world did not perceive NATO as a defensive alliance, attributing certain supposedly aggressive goals to it as a result of propaganda.
"Ukraine's accession to the Alliance will effectively eliminate these two weaknesses of NATO. Firstly, no one doubts anymore that Ukraine is capable of defending itself and its allies. Secondly, everyone in the world has seen that the war waged by Russia against Ukraine is unprovoked and criminal," he said.
The President emphasized that Ukraine's accession to NATO would be a powerful signal to the world that it is an Alliance that protects and will protect.
According to him, the entire eastern flank of NATO wants the US, Germany, France, or the UK to deploy their troops in Eastern European countries near the Russian borders.
Zelenskyy is confident that after Ukraine's victory, the allies will want our combat brigades to be stationed on the territory of our neighbors because Ukraine is a powerful country and everyone sees it.
Thus, NATO will guarantee Ukraine's security, and our Defense and Security Forces will ensure security and protection for other members of the Alliance.
"To make it a reality, one thing is needed - for all our partners in the Alliance to stop looking back at the Kremlin when making important decisions. Even the internal forces of Russia have stopped looking back at the weak Kremlin leader. Putin's madness has led him to drive himself into a deaf bunker due to his weakness. Therefore, it is absurd to look back at such an incapable leader of such an incapable state," the President noted.
Ukraine's accession to NATO
Ukraine understands that it can only join the Alliance after the end of hostilities. However, the country wants to receive a political decision on support for accession at the summit in Vilnius, which will take place on July 11-12. Zelenskyy believes that the country has all the grounds for this.
Head of the President's Office Andriy Yermak stated that Ukraine is expecting an invitation to NATO with an open date. Moreover, the country also wants security guarantees from NATO members.
It is worth noting that NATO Secretary General Jens Stoltenberg emphasized that Putin does not have veto power over the expansion of the Alliance, so he cannot decide on Ukraine's future membership in NATO.