Putin confirms Wagner forces as a part of Russian army - Ukrainian Prosecutor General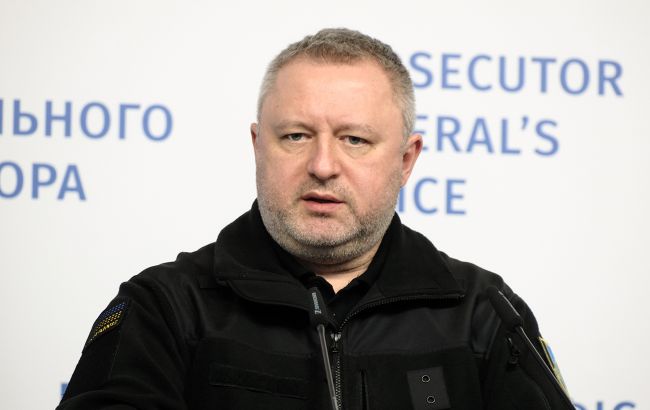 Photo: Ukrainian Prosecutor General Andriy Kostin (RBC-Ukraine)
Recent comments by Russian dictator Vladimir Putin regarding the financing of the Wagner Private Military Company (PMC) were seen as "direct evidence" that the mercenaries were an illegal part of the Russian army in the war against Ukraine, Ukrainian Prosecutor General Andriy Kostin told Reuters.
Last week, Putin stated that the Wagner PMC and its founder, Yevgeny Prigozhin, received nearly $2 billion from Russia last year.
While Russia attempts to distance itself from the Wagner forces, Putin's comments on mercenary budgetary expenses were seen as "direct evidence that they are not only de facto but also likely illegal parts of the Russian army," Kostin believes.
The Geneva Conventions prohibit the use of mercenaries by states in armed conflicts.
According to Kostin, among the more than 93,000 cases of potential military crimes investigated by the Prosecutor General's Office, many horrors were committed by Wagner forces against civilians and prisoners of war.
The Prosecutor General emphasized that their atrocities constitute "some of the most serious crimes against our civilian population and our prisoners of war."
Kostin also added that the Wagner PMC threatens Ukraine and peace and security in many countries, including Latin America, Africa, and the Middle East.
Kostin called on allies, including the United States and Britain, to recognize the Wagner PMC as a terrorist organization so that it could be held accountable and its assets frozen.
"Prigozhin is already a subject of criminal investigation in Ukraine, but the main goal is to end the activities of such groups," he said.
Wagner Private Military Company
Russia has employed mercenaries from the Wagner PMC in the war against Ukraine, while the Kremlin has denied any direct connection to the mercenaries.
However, Putin acknowledged for the first time that the Wagner PMC received state funding last week. Furthermore, Russian propagandist Dmitry Kiselyov recently claimed that Wagner forces received over $9.8 billion through state contracts.
On June 24, the leader of the Wagner PMC, Yevgeny Prigozhin, accused Russian forces of striking his mercenaries' rear camps.
In response, he and his mercenaries set off to storm Moscow. Within a day, they took control of Rostov but fell short of reaching Moscow by 200 kilometers.
However, the rebellion quickly ended after negotiations between Prigozhin and self-proclaimed President of Belarus Alexander Lukashenko. Subsequently, it was decided to send Prigozhin and some of his soldiers to Belarus.