Putin announces that agreement on gas hub in Türkiye is close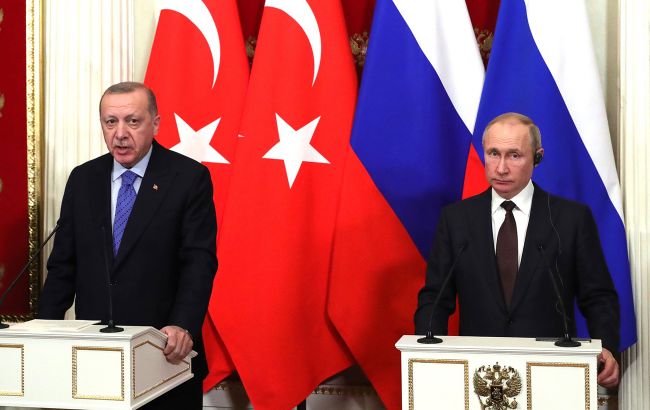 Turkish President Recep Tayyip Erdogan and russian dictator Vladimir Putin (Photo: Getty Images)
Russia is close to agreeing to create a natural gas trading hub with Türkiye. Kremlin is seeking alternative routes for exporting fuel to Europe, stated Vladimir Putin during negotiations with Turkish President Recep Tayyip Erdogan.
"I hope that in the very near future we will complete our negotiations," Putin said from Sochi. According to him, Türkiye's gas hub will stabilize the energy situation in the region.
Moscow aims to strengthen its relations with Ankara after its relations with the European Union deteriorated sharply amid Putin's war against Ukraine. Last year, the President proposed a plan to establish a gas hub, anticipating that constructing more pipelines to Türkiye would make this route Russia's main export corridor to the West.
The project will take the form of an electronic trading platform rather than a physical facility for storing large volumes of Russian fuel, Putin said in July.
Ankara has been a close political and economic ally of Moscow, as many Western countries have avoided Russian trade following the invasion of Ukraine. The governments of both countries are already cooperating in constructing a $20 billion nuclear power plant in southern Türkiye.
Previously, the country had hoped to see the first of four reactors at the Akkuyu plant, with a capacity of 4,800 megawatts. The first batch of Russian nuclear fuel has been delivered to the facility, and now the installation will be put into operation in 2024, according to Putin in Sochi.
Erdogan's visit to Sochi
Recall that on September 4, Turkish President Recep Tayyip Erdogan arrived for a meeting with Vladimir Putin in Sochi. The grain corridor is planned to be discussed. Additionally, during the meeting, Erdogan will offer mediation in peaceful negotiations with Ukraine.
During the meeting, they will discuss transportation formulas for Russian gas to Europe through Türkiye. Previously, Putin had proposed the construction of a natural gas trading center in Türkiye. According to his statements, Moscow intends to create an electronic platform for gas sales in Türkiye.