President of Poland aims to 'protect' EU market from Ukrainian grain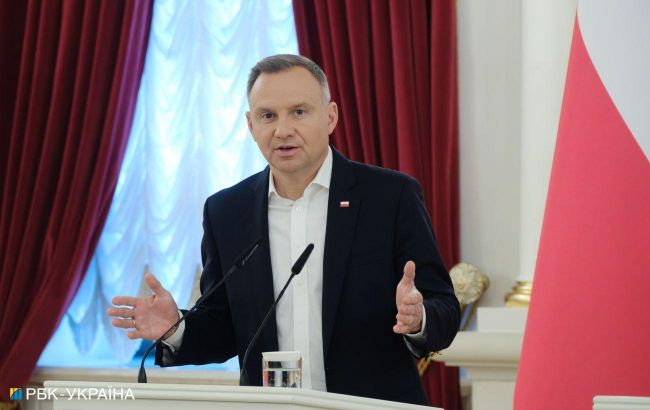 President of Poland Andrzej Duda (Vitalii Nosach, RBC-Ukraine)
The most important duty of the Polish government is to protect the interests of the Republic of Poland, and therefore, protect the domestic market and the EU market, as President of Poland Andrzej Duda said in an interview with Sieci, PAP reports.
Journalists asked Duda about the statement of Prime Minister Mateusz Morawiecki on Poland's decision not to lift the import ban on Ukrainian grain after September 15, contrary to the decision of the European Commission.
"It is clear that we consistently support Ukraine in its defense against Russian aggression... But another matter - and this is our most important duty - is to secure the interests of the Republic. Therefore, to protect the domestic market and the market of the European Union, which starts with us. It is also in our interest to acknowledge the historical truth between states," Duda said.
The President of Poland was also asked about the statement made by Marcin Pszydach, Head of the Presidential Bureau of International Policy, that Kyiv does not value Polish aid.
"The minister did not mean that our friends from Ukraine don't express their gratitude in the media every day: 'Thank you, thank you, thank you.' We hear this very often from ordinary people, and we greatly appreciate it. But from the Ukrainian authorities, we expect understanding in certain matters as well, that we have our interests and responsibilities," he said.
He acknowledged that with such understanding, "sometimes things can be different."
"We must remember that they are in a special position. Therefore, sometimes we need to tell them: we understand that you are at war, but remember that we also live nearby and also have our obligations to Polish society," Duda added.
Ban on Ukrainian food
In April, Poland became the first country in Eastern Europe to ban the food import from Ukraine despite the EU's decision to free access to Ukrainian products during the war. This decision was formalized by the European Commission, which in May 2023 prohibited the import of Ukrainian wheat, corn, rapeseed, and sunflower seeds to Poland, Slovakia, Romania, Hungary, and Bulgaria.
The ban is in effect until September 15. However, Poland insists on an extension until at least the end of 2023.
In recent days, relations between Ukraine and Poland have somewhat deteriorated. A diplomatic dispute began with the words of the chancellor of the Polish President's Office and the Head of the Bureau of International Policy, Marcin Pszydach, who stated that Ukraine should value Polish assistance and not try to sell grain at a price that does not suit Polish farmers.
After this, the Ukrainian Ministry of Foreign Affairs decided to request the Polish Ambassador, Bartosz Cichocki.