Powerful storm in Europe caused deaths of at least 14 people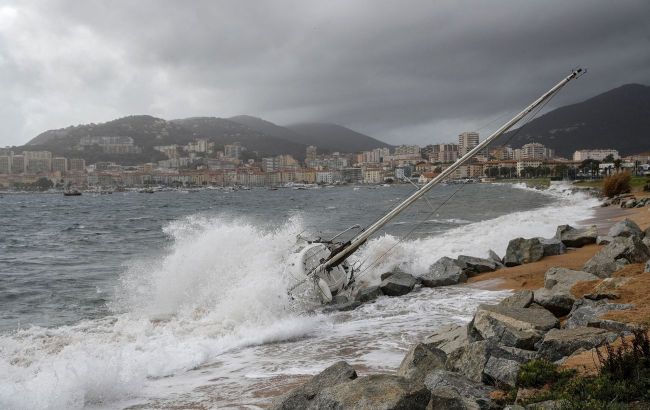 A powerful storm named Ciaran is raging in Europe, with at least 14 people reported dead (photo: Getty Images)
The powerful storm Ciaran, which is wreaking havoc in Europe, has caused flooding in a significant part of the Italian region of Tuscany, resulting in casualties. The number of fatalities on the continent has reached at least 14 people, reports the AP.
In Tuscany, people were trapped inside their homes due to the floods, and the severe weather inundated hospitals. In Italy, at least 6 people have lost their lives. Representatives from Italy's civil protection service reported that within three hours, 200 millimeters of rain fell from the coastal city of Livorno to the inland Mugello valley, leading to river overflow.
"There was a wave of water bombs without precedence," stated the governor of Tuscany, Eugenio Giani.
Throughout the day on November 3, the storm moved eastward across Europe. Many roads were submerged, and in Albania, the police reported that a driver died when they lost control of their vehicle in the water and collided with barriers.
Ciaran also impacted the Adriatic coastline of the Balkans, where strong waves and winds were observed, uprooting trees and tearing off roofs. Croatia had to suspend ferry services that connect its islands to the mainland.
Climatologists have pointed out that climate change has led to increased precipitation during such storms, often resulting in more severe consequences.
Storm Ciaran also caused at least 7 fatalities when it swept through Spain, France, Belgium, the Netherlands, and Germany on November 2. The severe weather destroyed homes, caused chaos on the roads, and left many communities without power.
Powerful storm Ciaran in Europe
In Belgium, a 5-year-old boy from Ukraine tragically lost his life due to the severe weather that struck Europe. The child was playing on a playground when a branch fell on him.
The strong winds and heavy rain claimed the lives of two individuals in France and Spain. Additionally, 1.2 million French households were left without electricity.