Massive storm hits Europe: Casualties reported, bad weather coming to Poland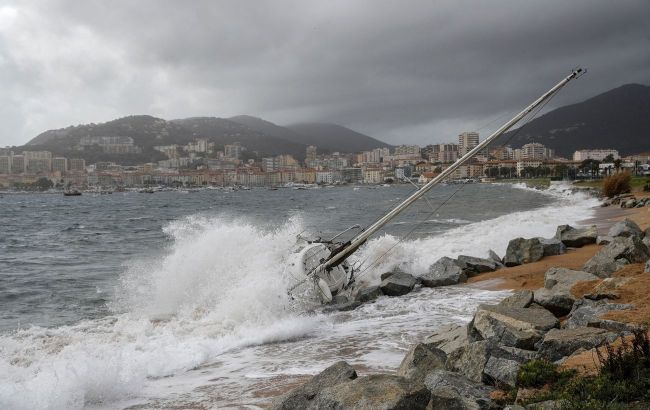 Storm Ciaran hits Europe (Getty Images)
Intense Storm Ciaran has swept across European countries over the past few days, leaving at least 10 people dead, according to Reuters and Rzeczpospolita.
Storm Ciaran, which followed Storm Babette two weeks ago, was caused by a powerful Atlantic flow. The storm brought heavy rains and strong winds with speeds of up to 200 km/h.
In France, over 1.2 million households were left without power due to the storm. It is also known that a truck driver was killed when a tree fell on him. According to the French Ministry of the Interior, at least 15 people were affected by the hurricane.
The Normandy Islands were among the hardest-hit regions in Britain. Heavy rains caused severe flooding in Northern Ireland and some parts of the UK. Gale-force winds tore off roofs, shattered windows, and uprooted trees.
The consequences of Storm Ciaran were also felt in southern Spain and Portugal. Several regions have declared a red level of alert. Trees toppled by the storm caused power outages and disruptions in rail traffic. Weather warnings were issued in nine regions of Italy.
The storm also hit the Netherlands and Belgium, where flights were canceled, and people were urged to stay indoors.
Casualties
So far, at least ten people have died due to Hurricane Ciaran. Victims include a truck driver who died in northern France, a 70-year-old man who fell from a balcony in Le Havre, France, a woman from Madrid, three residents of Belgium, and residents of the Netherlands, Germany, and Italy.
The hurricane might intensify
While residents of France have been informed that Storm Ciaran is already subsiding, the threat remains for other European countries. Meteorologists warn of strong waves, powerful winds, and heavy rains. Today, the storm could reach Eastern Europe, including neighboring Poland.
Meteorologists say that the storm in Poland will not have the same impact as in other countries, but the weather change will be noticeable. It is likely that the country will experience rain, winds up to 75 km/h, and a drop in air temperature.
Poles have also been warned about possible power outages due to the storm and have been asked to secure items that the wind might carry away.
Weather in Ukraine
On Saturday, October 28, Western, Northern, and Central regions of Ukraine were hit by a storm. Gale-force winds caused trees to fall in several regions. Half of the regions experienced power problems, with more than 300,000 consumers left without electricity. Two people in Kyiv died due to stormy winds.