Popular eyelash product sent girl to hospital looking like 'plague victim' (photo)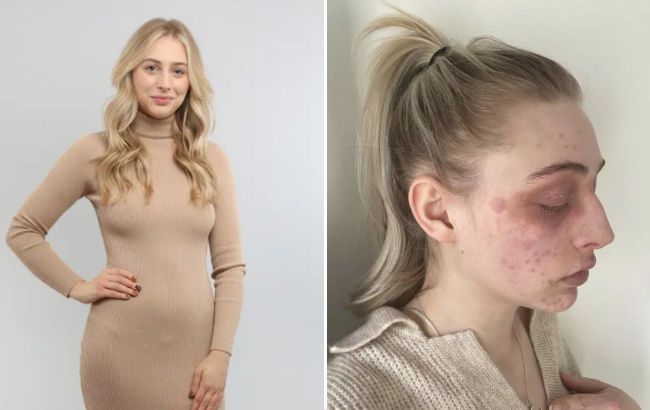 A girl fell victim to a popular cosmetic product (collage: RBC-Ukraine)
Harley Watson, a 24-year-old British woman, suffered a terrible allergic reaction to a popular cosmetic product. The eyelash serum was supposed to make her eyelashes thicker and longer. Instead, the skin around her eyes became swollen and red. The girl was hospitalized and spent the next two years dealing with the consequences of the failed cosmetic procedure.
The procedure itself is still very popular on TikTok, even Kim Kardashian uses it, according to The Sun.
How a girl became a victim of a cosmetic product
In April 2021, Harley decided to help her friend, who was studying to be a cosmetologist and agreed to the procedure. The girls were tested for an allergic reaction beforehand, but it was negative.
"She did an extensive patch test on my skin and we waited the recommended 48 hours for a reaction. I photographed the test points, which were neat rows of dots, and two days later there were no changes, so we went ahead and did it," says Harley.
The girl was pleased with the result, but within 48 hours Harley's face turned into a "horror show" - her eyes itched and watered.
"I woke up the next day and was horrified. I looked like I'd been in a boxing match. Huge red circles had developed around my eyes. It looked like I'd been punched in both eyes," she adds.
The girl was taken to the hospital where she was prescribed antihistamines and told to use a water-based cream to stop the redness.
In addition to the girl's swollen eyes, a painful rash appeared on her skin. Harley admits that even though two years have passed since the incident, she is still taking the medication.
"It's hard to believe a 40-minute beauty appointment ended up scarring me for life," says the girl.
A severe allergic reaction even forced Harley to quit her job as a hairdresser because her clients were afraid of her.
"I looked like a plague victim," says Harley. "One client was horrified and asked me if they could 'catch' what I had. Another grabbed her coat and fled out of the door saying she'd forgotten she had a work meeting. It was so embarrassing. People were leaving the salon before I'd had a chance to say anything," adds Harley.
The girl had to be treated for 2 years (photo: The Sun)
What is known about the dangerous serum
Eyelash serum is a popular alternative to eyelash extensions. This procedure is very popular abroad. There are more than 1.3 billion posts on TikTok using the hashtag #lashserum.
According to Industry Research Co, the market is estimated to be worth around £910 million in 2022 and is expected to reach around £1.3 billion by 2028.
A patch test is always recommended before using a serum, with customers waiting at least 24 hours to see if an allergic reaction occurs.
Harley notes that she has not filed a lawsuit against the serum manufacturer, but urges other users to be very careful with such products and take care of their health.
Harley had to quit her job because her appearance scared customers (photo: The Sun)
What doctors are saying about this case
"The active ingredients, such as prostaglandin analogs or other synthetic compounds, can cause irritation, redness, and swelling. In severe cases, users may experience allergic dermatitis, leading to discomfort and potential long-term skin damage. Even if a skin test is conducted before using a lash serum, there's no foolproof guarantee against allergic reactions. Skin sensitivity can develop over time or may not manifest during the initial patch test," explains dermatologist Radmila Lukian.
She urges people to be very careful when choosing cosmetics and to watch for even the slightest signs of allergies.
After the allergic reaction, Harley still has bumps and lumps on her eyelids and her skin is extremely sensitive.
"I have to do five-day patch tests before trying anything new and can only use organic products now," says Harley.
Harley calls for special care in choosing cosmetics (photo: The Sun)