Politico learned what hinders the EU from supplying million shells to Ukraine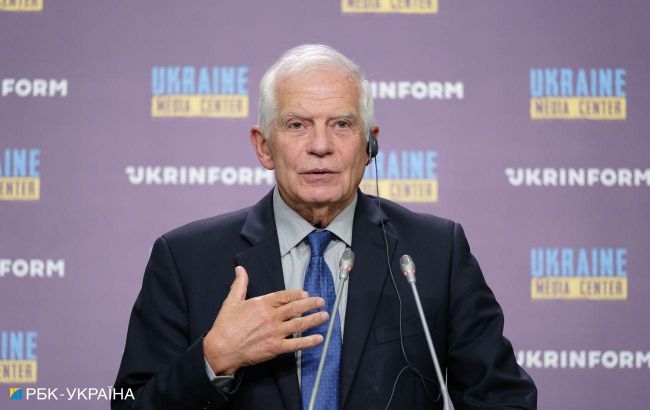 EU Diplomacy Chief Josep Borrell (photo: Vitalii Nosach, RBC-Ukraine)
In a high-level meeting scheduled for Tuesday, November 13, in Brussels, defense ministers from EU countries will convene. However, certain pledges from the bloc to support Ukraine with both military assistance and financial aid are encountering challenges, according to Politico.
Politico notes that diplomats are increasingly concerned that the EU's goal of delivering one million rounds of ammunition to Kyiv within the year to aid in the conflict with Russia is faltering, with new financial commitments also becoming entangled in tense political debates.
A high-ranking EU official reported that, as of February 9, only 300,000 rounds had been dispatched to Ukraine under the program to send projectiles from national reserves. This falls short of the promised one million rounds set at the beginning of the year.
"It will be very difficult to reach the target by mid-March," said one national diplomat on the condition of anonymity.
Problems of the EU
Among the challenges faced by contractors in scaling up production volumes, company executives cite a shortage of personnel and issues with the supply of explosive materials.
"The target is not dead. It's overall a problem with industrial capacity," emphasized an EU representative, adding that these figures are interim as thousands more rounds will be supplied within the framework of another joint procurement program.
Politico also notes an attempt to allocate a new aid package of 20 billion euros from the European Peace Fund to Ukraine over four years.
While the EU unequivocally states its support for Ukraine, member countries diverge in their opinions on how to ensure ongoing funding and reimbursements to arms-supplying nations either in one lump sum or in installments over the year.
"We have not spoken recently about this figure. This will not be closed next Tuesday," said a diplomat regarding the 20 billion euros, adding that a decision on how the fund will operate needs to be made first before allocating funds.
A million shells for Ukraine
At the end of last winter, it became known that the Armed Forces of Ukraine were grappling with a shortage of artillery ammunition. Consequently, in early May, the EU Council adopted a decision to provide assistance to Ukraine in the amount of one billion euros for joint procurement of ammunition and missiles. It was anticipated that European countries would supply Ukraine with one million rounds.
In addition to direct deliveries from the stockpiles of EU member states, joint procurement of ammunition has also been organized.
Furthermore, in early June, the European Parliament supported a document aimed at increasing European production of ammunition and missiles. In July, the European plan to expand the production of ammunition and missiles came into effect.