Polish parliamentary election 2023 - Who's the leader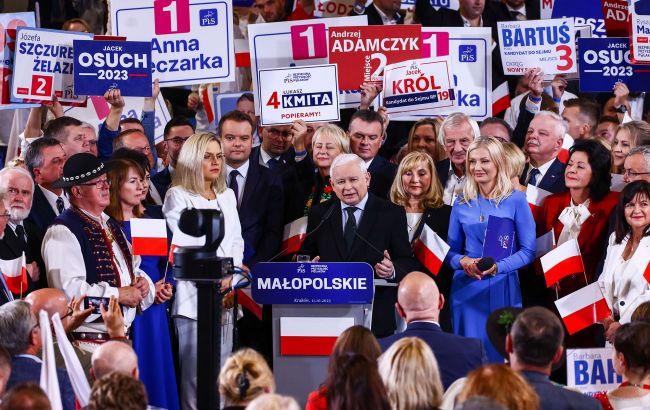 Photo: Elections started in Poland on October 15 (Getty Images)
Today, October 15, the parliamentary election started in Poland. The results of the elections will determine the 460 members of the Sejm (lower house) and 100 senators (upper house).
Sources used in the preparation of the material: Polskie Radio, Wiadomosci, TNV24.
Polling stations in Poland opened at 7:00 (Kyiv time 8:00) and will close at 21:00. According to polls, five political forces are leading in Poland. The electoral threshold for parties is 5% of the vote, and for coalitions, it's 8%.
According to the latest data, the conservative party Law and Justice (PiS) is leading in Poland, with Jarosław Kaczyński, well-known among Ukrainians, as its leader. The party has been in power since 2015, and the country's president, Andrzej Duda, is also a candidate of PiS. According to various polls, the party has between 31 and 37% support.
The main rival of PiS is the centrist Civic Coalition (CC), led by former Prime Minister and former European Council President Donald Tusk. Their average rating is 30%.
Three more parties are likely to make it to the parliament: the centrist bloc Third Way (11%), the coalition of left-wing parties, and the far-right Confederation (both at 10%).
Political battles
PiS focused on stability and tradition in its political campaign, emphasizing that it led Poland through the pandemic and resisted Russian aggression in Ukraine.
On the other hand, the CC promises to improve relations with Brussels, increase income, and invest in education and healthcare.
Between these two political forces, fierce battles took place before the election. Opponents not only considered each other competitors but also enemies.
Not only election
Simultaneously with the parliamentary election in Poland, a referendum will be held with four questions: the sale of state property to foreigners, raising the retirement age, a border wall between Poland and Belarus, and the admission of illegal immigrants from the Middle East and Africa.
For more detailed information about the elections in Poland and possible scenarios, refer to the material by RBC-Ukraine.