Polish farmers block truck traffic on Ukraine border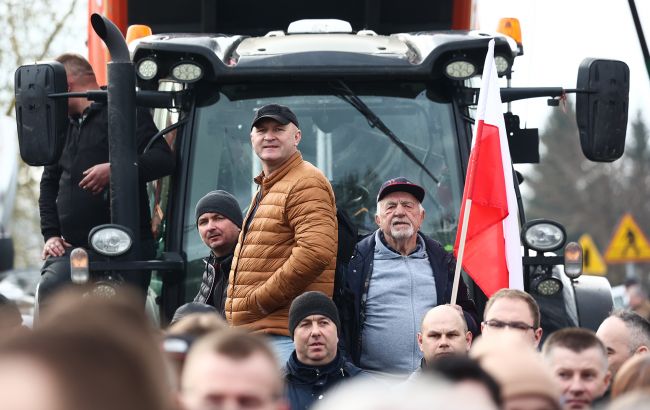 Polish farmers blocked truck traffic on the Poland-Ukraine border (GettyImage)
Polish farmers block truck traffic from Ukraine to Poland through the "Dorohusk-Yahodyn" checkpoint, as Ukraine's State Border Guard Service wrote on Telegram.
"Due to the strike by Polish farmers on the "Dorohusk-Yahodyn" checkpoint, the border-crossing of trucks destined for Poland will be temporarily suspended," the statement said. Only transport carrying humanitarian cargo will be allowed to enter Ukraine.
However, bus border-crossing proceeds as usual in both directions.
According to preliminary data, the protest will continue until 1 am on June 13.
Officials at Poland's Helm command post reported that the police are ensuring order and security during the protest. As part of the protest action, two trucks will be allowed to pass from Poland to Ukraine every hour, while no trucks will be allowed from Ukraine to Poland.
If the queue becomes too long, vehicles will be redirected to other border crossing points.
At the Tax Administration Chamber in Lublin, it was reported that around 320 trucks were stuck in a nine-hour queue this morning at the "Dorohusk" exit checkpoint from Poland to Ukraine. Meanwhile, the Ukrainian side reported that 3,185 trucks are registered in the electronic queue to enter Poland. Over the last 12-hour shift, 673 vehicles were processed at Dorohusk in both directions.
The Polish farmers' protests
Polish farmers are protesting due to the influx of Ukrainian grain into their market. Ukrainian products are supposed to transit through Poland to other EU countries. However, the grain and some products are settling in Poland, where they are sold at lower prices.
The demonstrations began intermittently from February 2023 onwards. The crisis hit its peak in April, when Poland's Agriculture Minister quit over the Ukrainian grain issue. To regulate the situation, the European Commission banned the import of some Ukrainian agricultural products into Bulgaria, Hungary, Poland, Romania, and Slovakia on May 2.