Poland may close railroad connection with Belarus - Interior Ministry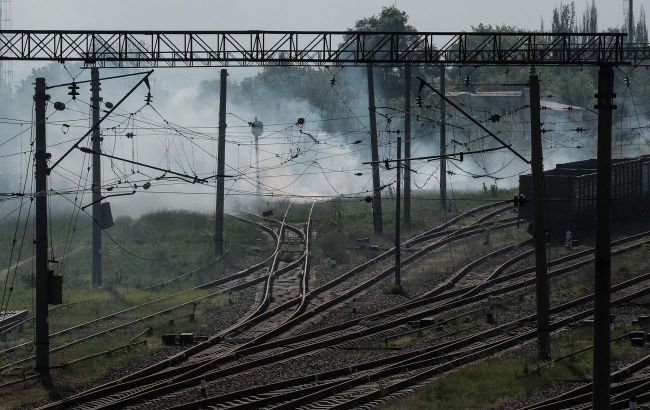 Poland may close railroad connection with Belarus (Getty Images)
Poland could close all border crossings with Belarus, including railway crossings, if the provocations by the regime of self-proclaimed president Alexander Lukashenko continue, according to the Deputy Head of the Polish Ministry of Internal Affairs, Maciej Wąsik, citing PAP.
Wąsik referred to conclusions drawn after a conversation between the Head of the Polish Ministry of Internal Affairs and Administration, Mariusz Kaminski, and Lithuania's Minister of Internal Affairs, Agne Bilotaite, regarding the mechanism that would be implemented in the event of the potential closure of all border crossings with Belarus and the isolation of the Lukashenko's regime.
When asked by journalists whether this mechanism implies that both Poland and Lithuania would simultaneously close the entire border with Belarus, the Deputy Minister responded that "that's how it is meant to work."
"If Belarus allows itself too much, if these provocations become more and more persistent, then we must act together - and I hope that Latvia will also join us, as Lithuanians need to discuss this with Latvians - in order to achieve the complete isolation of Belarus," Wąsik said. He also said there are talks of closing railroad crossings.
"We understand that a significant portion of trade, including Polish and Chinese trade, goes through this route. I think the Chinese will need to send the right signal to Lukashenko so that he doesn't take actions that will harm them," emphasized the Deputy Head of the Ministry of Internal Affairs.
Poland currently has a road crossing with Belarus in Terespol, where passenger traffic takes place, a cargo crossing in Kukuryki, but only for carriers from EU countries, and railway crossings.
The operation of the Kuznica border crossing has been suspended. It was closed over two years ago due to migration pressure caused by the actions of the Lukashenko regime.
Also, after a Belarusian court sentenced Polish minority activist and journalist Andrzej Poczobut to eight years in a strict regime colony, Poland suspended the operation of the Bobrowniki border checkpoint.
Provocations on the border with Belarus
After the Wagner PMC mercenaries began moving from Russia to Belarus, neighboring countries started fortifying their borders.
In particular, Poland plans to send an additional two thousand soldiers to support the Border Guard on the border with Belarus.
The Cabinet of Ministers of Latvia has announced a six-month enhanced border security regime with Belarus.
Lithuania, in turn, plans to close two out of six border crossing points with Belarus to reduce the risk of provocations and threats at the border.
The Prime Minister of Poland, Mateusz Morawiecki, and the President of Lithuania, Gitanas Nauseda, believe that the Wagner PMC mercenaries located in Belarus could provoke incidents on the borders of NATO countries.