Poland dismisses controversial Foreign Ministry spokesperson who previously criticized Zelenskyy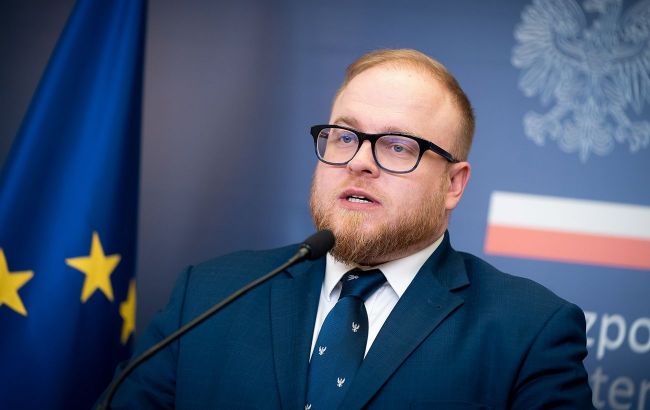 Spokesperson for the Ministry of Foreign Affairs of Poland, Łukasz Jasiński (photo: Getty Images)
The spokesperson for the Polish Ministry of Foreign Affairs, Łukasz Jasiński, has lost his position following another careless statement. This time, he commented on the readiness of foreign polling stations for parliamentary elections, according to RMF24.
The reason for Jasiński's resignation were his words during a conversation with a journalist regarding the possibility of foreign polling stations having commissions that might not count votes on time.
Jasiński was asked if there could be problems with the timely vote counting at foreign polling stations where citizens will cast their votes in the parliamentary elections on October 15. He acknowledged that there were concerns about this issue and clearly stated that there would be polling stations where the vote counting might not be completed on time.
Shortly thereafter, the Ministry of Foreign Affairs refuted his statements and announced his resignation as the spokesperson.
"Due to the erroneous information regarding the readiness of the Ministry of Foreign Affairs for organizing elections abroad, as voiced by the spokesperson of the Ministry, Mr. Łukasz Jasiński was immediately dismissed from his position," the Ministry announced.
Following his dismissal, Jasiński posted a farewell statement on Twitter, joking that "a spokesperson is like a sapper, and every sapper can step on a mine."
Drodzy państwo. Rzecznik prasowy to saper a każdego sapera może wysadzić mina. Kończąc obowiązki Rzecznika MSZ - dziękuję wszystkim. Dobranoc i do usłyszenia.

— Łukasz Jasina (@LukaszJasina) October 13, 2023
"As I conclude my work as the spokesperson of the Ministry of Foreign Affairs, I want to thank all of you," he wrote.
Jasiński's conflicts
It's worth noting that the spokesperson of the Polish Ministry of Foreign Affairs was previously suspended from work due to his statement about the Volyn Tragedy and Ukraine.
He was removed from his position because of his statement in which he demanded apologies and greater remorse from the President of Ukraine, Volodymyr Zelenskyy, for the Volyn Tragedy.