Poland deploys rapid response team at border with Belarus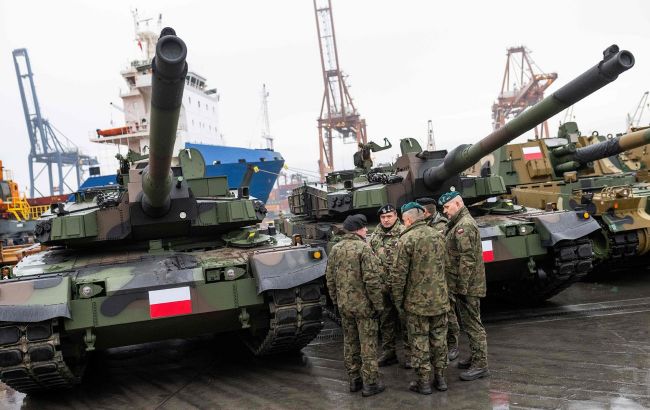 Military operational group commences operations at the Polish-Belarusian border (photo: Getty Images)
The military operational group initiates actions at the Polish-Belarusian border. Minister of Defense of Poland, Mariusz Błaszczak, announces the commencement of operation RENGAW, according to the website of the Ministry of Defense of Poland.
"I have decided to establish a military operational group within the operation codenamed RENGAW. The soldiers' task will involve training the Polish Armed Forces here, in the field, within the Podlaskie Voivodeship province, and forming a reserve in the event of a deterioration of the situation on the Polish-Belarusian border... We are implementing effective and appropriate measures to deter the aggressor. The Polish Armed Forces are equipped with modern weapons and state-of-the-art technology, all of which demonstrate the strength of the Polish Armed Forces – a strength that restrains the aggressor," the Minister stated.
Today, on August 12, the head of the Ministry of Defense embarked on a visit to the eastern regions of Poland, where members of the Polish Armed Forces are currently stationed, providing support to the Border Guard.
"There is no doubt that the Belarusian regime is collaborating with the Kremlin, and the attacks on the Polish border are aimed at destabilizing our nation. However, I am firmly convinced that this endeavor will meet its downfall, owing to the dedicated service of the Polish Armed Forces and the bolstering of our border," he asserted.
According to his statements, this military operational group serves both an instructional and defensive purpose, highlighting its dual nature.
"We have Operation GRYF under the command of the Border Guard, which pertains to the consolidation and fortification of our border. Up to 4000 soldiers from the Polish Armed Forces will be involved in this operation, but I have opted to establish a distinct military operational group within the undertaking, designated by the codename RENGAW," emphasized Błaszczak.
The Minister of Defense also drew attention to the actions of Kremlin propaganda. As he pointed out, the reinforcement of the Polish border by the Polish Armed Forces is anticipated to be exploited by the Kremlin's propaganda apparatus.
Poland-Belarus relations
Belarus and Russia have reportedly dispatched around a hundred militants from the Wagner Private Military Company to the Suwałki Gap. In the meantime, in Warsaw, there are concerns that these mercenaries might be employed for provocative actions.
Particularly noteworthy is the incident on August 1 when two Belarusian helicopters violated Polish airspace, a breach later confirmed by the Ministry of Defense. In response, Warsaw decided to deploy a thousand troops to the border with Belarus, a number that was subsequently increased to ten thousand.