People are tired of artificial intelligence? ChatGPT rapidly losing users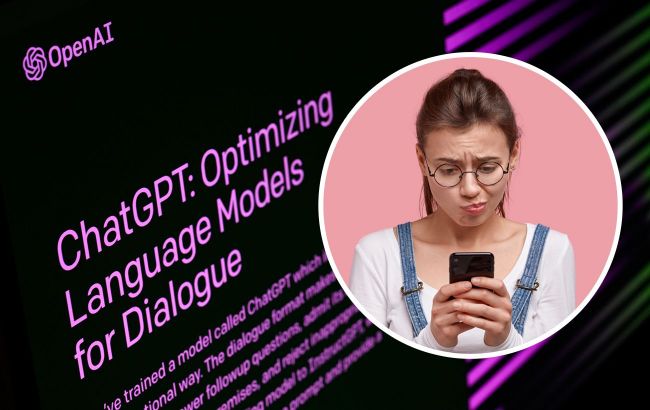 The number of people visiting the ChatGPT website worldwide dropped by 10% (Collage: RBC-Ukraine)
According to The Washington Post, ChatGPT is experiencing a decline in users for the first time, shaking faith in the revolution of artificial intelligence. In June, the number of people visiting the ChatGPT website worldwide dropped by 10%.
Interest in ChatGPT has dropped by nearly 10%
According to internet company Similarweb, the number of visitors to the ChatGPT website decreased by 9.7% in June compared to the previous month. Sensor Tower data also shows a steady decline in the number of downloads of the bot's iPhone application, which was launched in May, following a peak at the beginning of June.
ChatGPT was developed by the artificial intelligence company OpenAI and launched in November of last year, sparking a surge of interest in artificial intelligence. Large technology companies began investing millions of dollars in developing competing programs.
People around the world use ChatGPT to expedite their work and ask questions on a range of topics. Some companies have even replaced their copywriters with ChatGPT. However, the decrease in interest in the program suggests that the hype around chatbots has been overstated.
Why are people losing interest in ChatGPT?
One reason could be that people have realized that sometimes the chatbot provides inaccurate information and, consequently, is not as useful as they initially thought.
Some users have complained that ChatGPT's responses have become worse over time, especially when it comes to generating computer code.
Many companies have also prohibited their employees from using ChatGPT at work due to concerns that placing confidential company information in the bot could lead to data leaks.
The launch of artificial intelligence chatbots requires a massive amount of expensive computer processors. Analysts speculate that the decline in quality may be due to OpenAI's attempt to reduce the cost of operating the bot.
The end of the academic year in the United States and Europe may have also contributed to the decline in interest in the program, as students who used it for writing assignments have gone on summer vacation.
Other experts suggest that concerns over new regulations in the European Union have led OpenAI and other artificial intelligence companies to abandon the capabilities of their chatbots.
A representative from OpenAI, the developer of ChatGPT, declined to comment.